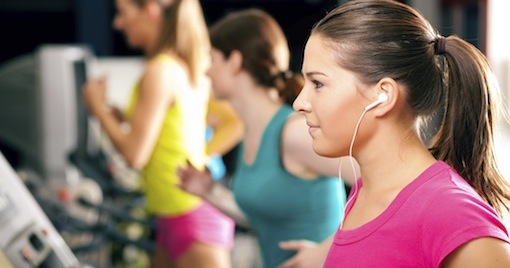 Active Lifestyle
January 9, 2014
Turn Up The Intensity of Your Workout With These Must-Have Music Apps
If you're having trouble working up the motivation to work out today, it's time to turn up the tunes and get moving! Multiple studies have shown that music has a motivational effect when it comes to exercising. It can even help you exercise longer and with more intensity, enhance your endurance and actually enjoy your workout—time flies when you're having fun jamming out.
It's no secret that music has the ability to impact peoples' moods. Whether they're in a good mood, or a not-so-good mood, music has a magical way of making any situation better.
The next time you're dragging your feet on your way to the gym, turn on some music—you'll be surprised at how it can put a skip in your stride. Even Olympic swimmer Michael Phelps swears by the motivational power of music. And, if it works for him, why can't it work for you?
Music also has a way of altering our perception when it comes to the amount of effort we exert when exercising. By acting as a distraction, it prevents us from thinking about how tired we are from doing planks, pushups, burpees or any other exercise. And, should you start to become fatigued, a bumpin' beat can provide the boost of energy and encouragement you need to push through the pain.
Turn up the intensity of your workout by listening to songs with an upbeat tempo. Studies have shown there's a direct correlation between music tempo and the level of intensity at which people exercise—the higher the bpm (beats per minute), the higher the intensity. Experts say that the "sweet spot" is approximately 125-145 bpm.
To hit your stride and take your workout to the next level, check out some of our favorite music apps:
Pandora – While you're probably familiar with Pandora, you may not know that companies like Adidas and Nike have created their own Pandora stations with pre-selected music to make your workout experience even better. Available on iOS and Android devices, Pandora is a free music streaming service that allows users to enjoy 40 hours of free listening per month, and create up to 100 custom stations based on their favorite artists, genres or songs.
Jog.fm – Jog.fm is available on iOS devices and helps users find the best workout music for any exercise. With the ability to detect the intensity of your workout, the app automatically chooses songs from your iTunes library that match your pace. Users can also set their own pace and choose warm-up and cool-down music. It even learns what music you like to listen to.
Spotify – Available on iOS and Android devices, Spotify allows users to search for music by album, artist or track, create playlists and download their favorite songs to their mobile device. You can try Spotify free on your mobile device for 48 hours. After that, Spotify requires you to subscribe to its premium music streaming service.
By downloading these music apps to your mobile device, you'll have instant access to millions of songs that can take your workout from "womp womp" to "woo-hoo." So plug in your headphones, press play and rock on.
While you're working out to your favorite tunes, don't forget to drink plenty of water! Studies have also shown that proper hydration is the key to exercise success. Next time you're on the way to the gym, take us along with you—our 25-ounce sport cap water bottles make the perfect workout partner!
What type of music motivates you to work out, and what are your must-have music apps?