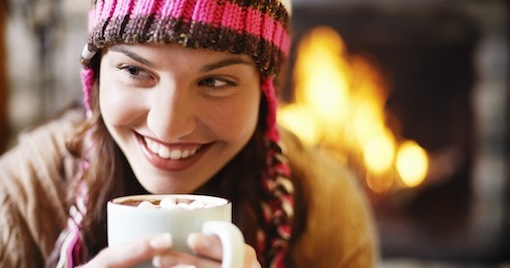 Absopure Delivered
January 15, 2014
5 Coffee Drinks That Will Keep You Warm and Cozy All Winter
With subzero temperatures and frequent snow flurries on the forecast, it's time to grab your favorite blanket and bundle up, because it looks like winter weather is here to stay. But, sometimes it takes more than blankets, slippers and sweatshirts to beat the cold.
That's why it's better to warm yourself from the inside, and what better way to do that than with a warm and toasty coffee drink. Here are five homemade coffee recipes that will keep you warm all winter long:
Gingerbread Latte (Recipe here)
Other than ginger or vanilla extract, you probably already have the ingredients for this delicious latte in your cupboard. Rather than spending money on expensive flavoring syrups, you can make the real thing in a few minutes! The best part about this recipe is that you don't need to have an espresso machine at home; you can use extra-strong coffee or K-cups as a substitute.
Peppermint Mocha (Recipe here)
This simple, four ingredient recipe will make waking up on cold winter mornings more enjoyable. Just add a couple of drops of peppermint extract and a couple of tablespoons of chocolate syrup to your coffee and cream.
Vanilla Café au Lait (Recipe here)
If you like your coffee nice and creamy, this one is for you. With half-and-half, milk and vanilla bean, the Vanilla Café au Lait is more than a catchy French name for a latte. It's a smooth and frothy brew that will leave you asking for refills.
Caramel Macchiato (Recipe here)
This recipe takes a little longer to create, but all that extra work will be worth it as soon as you take your first sip. This caramel macchiato has it all: the creaminess of vanilla and milk, the sweetness of caramel and just enough coffee to make it the perfect winter drink.
Poor Man's Mocha (Recipe here)
Finally, if you don't have much time or ingredients in your cupboard, this is a simple drink that's easy to make. All it takes is one part coffee and one part hot chocolate, and you're good to go!
Do you have any more recipes to add to our list? We'd love to hear your favorites!