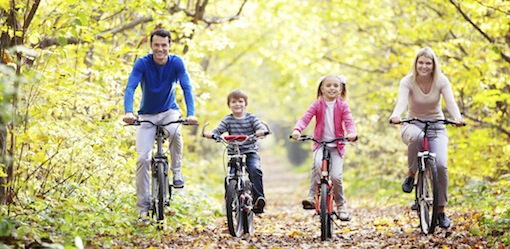 Active Lifestyle
October 22, 2013
5 Ways to Keep Your Family Active This Fall
Just because it's getting colder, doesn't mean you have to begin hibernating at home. Although summer weather has said its goodbyes, fall is just as friendly when it comes to the number of outdoor activities your family can enjoy doing together. Here are five fun ways you can get some fresh air and keep your family active this fall:
Visit your local apple orchard
When you plan a trip to the apple orchard this fall, choose one that allows you and your family to pick your own apples. Whether you like Red Delicious, MacIntosh or Granny Smith, apples always seem to taste better when you pick them yourself. The best part is, you'll have a tasty treat to enjoy after all of your hard work.
Plan a trip to the pumpkin patch
Planning a trip to the pumpkin patch is another one of our favorite fall pastimes. With petting zoos, playgrounds, bounce houses and other activities, there is something fun for every member of the family to enjoy. When you're done petting farm animals, hitch a hayride to the pumpkin patch and have fun hunting for the perfect pumpkin to carve. While it may seem like all fun and games, there's actually quite a bit of heavy lifting involved.
Conquer a corn maze
This weekend, find a corn maze in your area and carve a couple of hours out of your day to cross this fall feat off of your bucket list. Corn mazes can be a great team building and problem solving exercise for the entire family. By working as a team to find your way out, you'll walk across the finish line with a sense of accomplishment—and walk quite a few miles in the process.
Run a spooky race
This time of year is full of Halloween-themed races. Visit your local running club's website to search for spooktacular races in your area. With costume contests, and even zombie chases, these events are always a thrill to attend.
Rake leaves
The leaves are already beginning to change colors, and soon they'll blanket your lawn before colder weather comes. This year, involve your entire family in the fall yard work. To turn this chore into a family fun activity, make it a game to see who can rake the biggest pile of leaves. Not only is this a good cardio workout, you can have fun jumping in the big piles of leaves you created after all the hard work is done.
Although the weather may be getting cooler, it's still important to stay hydrated during any period of physical activity. Whether you're having fun at home or at the pumpkin patch, always keep an adequate number of water bottles on hand and encourage your family to drink plenty of water.
You can keep your family hydrated when you try Absopure in your home free for 30 days. To learn more about our no obligation free trial, call 800-499-9938 or click here.
What's your favorite fall activity to do as a family?