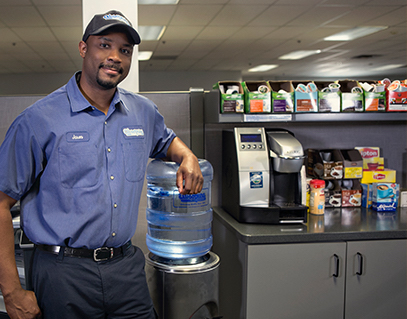 A Better Day Starts with Better Coffee
For over 100 years, Absopure has been a leader in delivering office refreshments. We reliably bring flavorful, high quality coffee brands to thousands of small-, medium- and large-sized businesses throughout the Midwest.
Exceptional coffee begins with the purest water, and you can get both delivered to your office from Absopure!
By the Cup
From Dark Magic to Wild Mountain Blueberry, Absopure offers coffee to match the unique taste preferences of every single employee. With Keurig's® Single Cup Commercial Brewer and your choice of over 70 coffee and tea flavors, you'll feel like you have a barista in your breakroom!
By the Pot
A better pot of coffee starts with Absopure office coffee services. We start with the best beans from brand names like Starbucks®, Green Mountain®, Folgers® and our own Absopure premium roasts and blends. Our coffee brewers can even connect to your Absopure water – bringing out the true taste in every cup!
General Necessities
Your Absopure workplace coffee service comes complete with cups, creamers, sweeteners, accessories and more. We offer brewing machines in a range of styles and sizes and can help you find the solution that fits your business and your budget.
Coffee Selections
In addition to delivering the finest bottled water, take a look at the fine selection of coffees we can bring right to your work place. Absopure delivers coffee for brewing by the cup or by the pot. Along with our own fresh roasted Absopure blends, we offer national brands including Maxwell House, Folgers, Starbucks and Green Mountain. If your preference is by the cup, in less than 30 seconds you can custom brew your personal choice of over seventy (70) varieties of regular, decaf, and flavored coffees, tea, cocoa and more.
Absopure Premium Coffees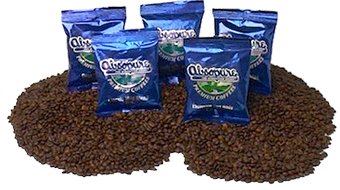 Available in:
Exclusive Full-Body… for a taste bursting flavor
Classic Mild-Body… a gentle, light taste
Decaffeinated… all the full taste with no caffeine
100% Columbian… for the real coffee lover
French Roast… long, slow roasted beans provide a touch of Paris
Colombian Select… unsurpassed excellence in coffee
K-Cup Coffees and Teas for Single Cup Brewers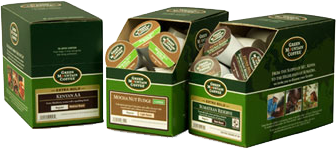 We carry a variety of K-Cup Coffee and Tea Flavors for Keurig Single Cup Brewers including: Folgers. Green Mountain, Diedrich, Gloria Jean's, Tully's, Caribou, The Original Donut Shop, Café Escapes, Celestial Seasonings, Tim Hortons, Starbuck's, & Bigelow Tea.
Click here to view the K-Cup Single Cup Coffee selections.
National Coffee Brands

Maxwell House
Regular
Decaffeinated
Special Delivery Filter Packs
Special Delivery Decaffeinated Filter Packs
Folgers
Classic Roast
Classic Filter Packs
Starbucks
House Blend
Decaffeinated
Beverages, Soups and More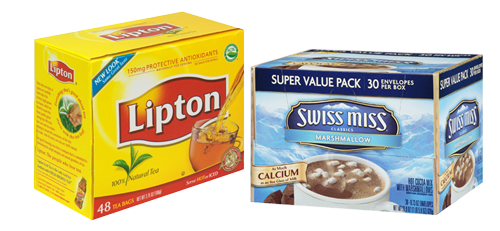 Even we at Absopure know that one cannot live on water and coffee alone… so, here are some additional great refreshment products that we can bring directly to you, wherever you are.
Tea
Lipton Tea
Lipton Naturally Decaffeinated Tea
Bigelow Herbal Tea Assortment
Bigelow Green Tea
Hot Cocoa
Swiss Miss Regular Milk Chocolate
Swiss Miss No Sugar Added
Swiss Miss with Marshmallows
Need coffee services?

WE HAVE THEM


Sign up today!

Sign up now for Absopure office coffee service, or try the service for FREE in your workplace.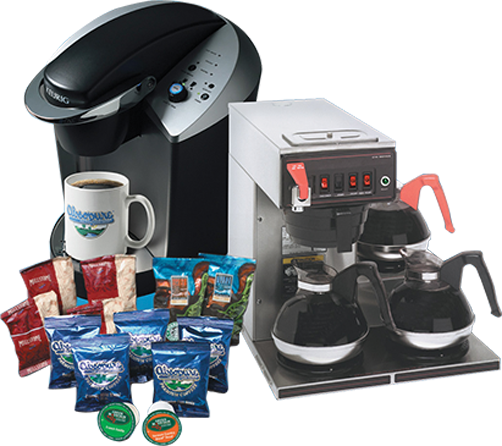 Need coffee services?

WE HAVE THEM


Sign up today!

Sign up now for Absopure office coffee service, or try the service for FREE in your workplace.
Tell Me More