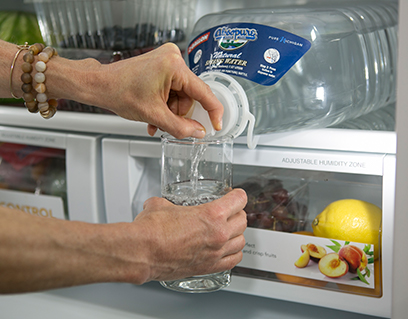 It's More than Water—It's Absopure
Founded in Detroit in 1908, Michigan-based Absopure is a family-owned company providing an assortment of clean, crisp-tasting water products to retailers across the country, and delivered directly to homes and offices in Michigan, St. Louis and select areas throughout the Midwest.
While our humble beginnings date back more than 100 years to when Absopure delivered ice to Detroit-area customers on horse-drawn wagons, we have continually evolved our products and services to meet the growing and changing needs of our clients. This includes becoming the first water company to recycle its own bottles after establishing Clean Tech in 1986, as well as being first-to-market with clear plastic gallon water bottles. Our continued innovations have also led to the introduction of new products, including Crystilled and Absopure Plus, which infuses electrolytes into Absopure's vapor-distilled water to create a great-tasting hydration experience.
Today, Absopure offers a wide variety of bottled waters—including natural spring water, steam distilled water, purified drinking water, electrolyte enhanced water and natural fluoride infant water. Absopure water comes in a variety of sizes and packaging, ranging from individual bottles and cases to five gallon jugs.
Absopure water is available at retailers across the United States. Visit our Store Locator to find a store near you.
Our reputation for community involvement, unmatched quality and industry-leading service is built on more than 100 years of experience, which means Absopure customers can expect to consistently receive maximum satisfaction. Guaranteed.