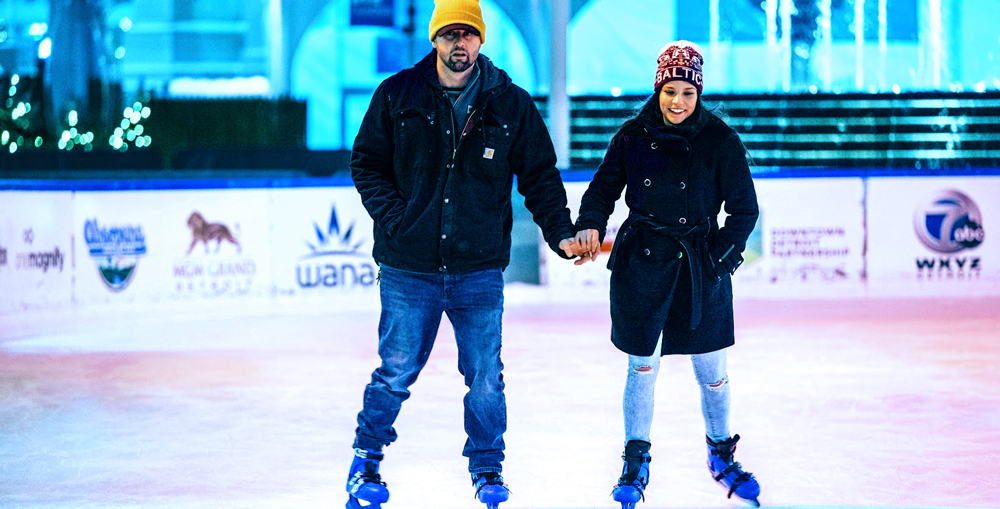 Active Lifestyle
March 4, 2022
Winter Activities to Increase Your Heart Rate
During this time of year, we usually want to curl up in a blanket and stay inside, but what's winter without some fun outdoor activities? Whether you're hitting the slopes or gliding across the ice, adopting a winter fitness routine that incorporates the outdoors can be a fun way to stay fit and healthy. There's a variety of cold-weather sports that you can do with your family or on your own. Here are a few activities that will help increase your heart rate this winter. Just remember to dress warm, have a blast and stay hydrated!
Ice Skating
Not only is ice skating a fun hobby, but it's also a well-rounded workout. You can go solo or with a group of friends and family, especially if you need extra support. Like other aerobic sports, ice skating takes the use of core muscles and gives your heart a workout, building cardiovascular strength. With a focus on core balance and leg and arm strengthening, ice skating is a fun way to stay fit.
Snowboarding/Skiing
Grab your gloves and snow pants, and let's hit the slopes! Snowboarding and skiing are adrenaline-pumping activities to indulge in during the winter season. You could take a trip to a ski resort or find a local mountain—whichever works best for you. Skiing is a full-body exercise where the poles work your arm and shoulder muscles, and the side-to-side lower body movements work your abdominal and leg muscles. Snowboarding will also tone your legs, arms and abdominal muscles, keeping you in great shape. Additionally, doing either activity for extended periods will result in the ultimate cardiovascular workout, bringing nutrients and oxygen into your body.
Shoveling Snow
Leaving your house can seem like quite a chore once snowflakes begin to cover your neighborhood. But clearing your driveway and sidewalks is essential for safe daily use. It's a necessary winter activity that will get your heart pumping and body moving, yet it's important to note that it can be the perfect storm of factors linked to heart attacks. So, if you are under 45 years old and in good health, bundle up, grab a shovel and go at your own pace. Take frequent breaks as this can be tiring, and hydrate often with Absopure Plus Electrolyte Water to replenish electrolytes and perhaps some hot chocolate to help your body warm up after the chore is complete!
Sledding
Sledding is another family fun winter activity that is a great way to get out in the snow and exercise. Nothing beats the adrenaline rush of flying down a mountain at top speed in a tube or sled. As you climb a hill while carrying your sled multiple times, you will build leg muscle, raise your heart rate and burn major calories. The advantage to sledding is you don't need any of the balance or coordination skills required for skiing or snowboarding, making it an easy activity for everyone. This activity is an excellent way to maximize your health and fitness while enjoying the outdoors.
Snowball Fighting
Who doesn't love an old-fashioned snowball fight? Playing in the snow certainly is a workout and will use your entire body. Whether you're throwing, running or ducking, a snowball fight can help strengthen your arms, legs and shoulders. Plus, they can happen anytime and anywhere. Gather your friends and family, and let the battle commence! Just make sure to take breaks and hydrate when necessary to avoid overworking yourself.
Try to see the cold winter season as an opportunity to keep a healthy and fit lifestyle and adjust your routine accordingly. Instead of the gym, try different outdoor activities to get your body moving and increase your heart rate while enjoying quality time with your friends and family. In addition to following these tips, always remember to bundle up, have fun and stay hydrated with Absopure Water.