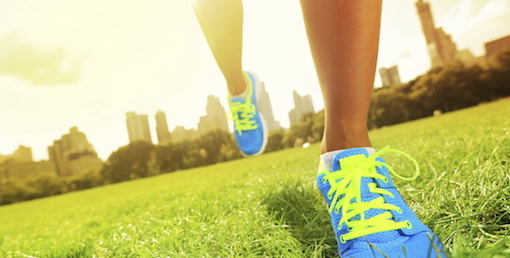 Active Lifestyle
April 1, 2015
Training for a 5k: How to Prepare For Your First Race
This is a guest blog post from Betsy Moats, owner of the health and fitness blog The Everyday Warrior.
Running has become a very popular pastime amongst people of all ages and backgrounds. Its accessibility to people of all fitness levels encourages many people to consider running their first 5k.
And perhaps that person is even you! And why shouldn't it be you? You deserve it! Running a 5k is truly something that any person can accomplish. Training for a 5k doesn't have to be hard. Use the tips below and you will be crossing the finish line of your first 5k before you know it!
Register For Your Race. The best motivator to accomplishing any goal it to have a date on the calendar. A good rule of thumb is to select a 5k race that is about 3 months out so that you have ample time to train without feeling rushed. How do you select the perfect 5k? Decide what is important to you! Do you want to run for a good cause? Find a race that is partnered with a charity. Do you want to have a medal as a memento of your first 5k? Seek out races that offer medals. There are so many different 5k races out there, there is bound to be one that speaks to you.
Get Fitted For Running Shoes. It is important that you are using the right kind of running shoes for you and your feet and since there are so many different kinds of running shoes available the best thing to do is to go to your local running store and let the experts help you! If you are from Michigan, the Running Fit stores are a great resource for shoes and other running gear.
Find And Start A Training Plan. The best way to stay on track with your 5k training is to have a plan. Fortunately there are a ton of free plans available to you online, such as the ones offered by Hal Higdon. Find a plan that feels comfortable with your starting point and follow it to get you to the start line of your first 5k.
Run/Walk Intervals. There is nothing wrong with doing run/walk intervals during your training or in your race. Over time, you will gradually be able to reduce the amount of time that you spend walking vs running as your body acclimates to the running and builds endurance.
Treat Yourself To Some Tech Gear. It may be tempting to run in whatever you currently have in your wardrobe, however, it is highly advised that you have at least one quality running outfit. That running outfit should be clothing made from tech fabric, which is a breathable fabric that pulls moisture away from your body. This will make your training and your race much more enjoyable!
Find Running Buddies. Running may seem like a solo sport, but it doesn't have to be! If you don't know any runners, you can join a local running club or even an online running group. These running buddies will be a good motivator for you during your training and a great resource for when you have questions along the way!
Expect Setbacks. Setbacks will happen, but you can overcome them. When a setback occurs, analyze why it happened and then regroup to continue on toward that goal!
Experiment With Hydration And Nutrition. Don't wait until race day to figure out what works best for you. Make sure that you are drinking plenty of Absopure water before, during and after your race, as well as eating a nutrient rich pre and post-race snack to help fuel and recover from your run.
Don't Do Anything New On Race Day. Whatever you did during your training should also be done on race day. This means wearing the same gear that you are familiar with and fueling and hydrating with what your body is used to. Changing up the routine on race day could result in an uncomfortable experience.
Have Fun! Above all else, make sure you enjoy both training for your first 5k and the 5k race itself. Running really can be a lot of fun if you let it be, so don't take yourself too seriously and enjoy the journey to the finish line of your first 5k!
Betsy Moats is a Metro Detroit area runner that has a penchant for trail runs and obstacle course races. In addition to her running obsession she is also a mother, a fashion fiend, a country music lover and a blogger. You can connect with her on her health and fitness blog, The Everyday Warrior, where she inspires her readers to live a healthy, fit and active life.