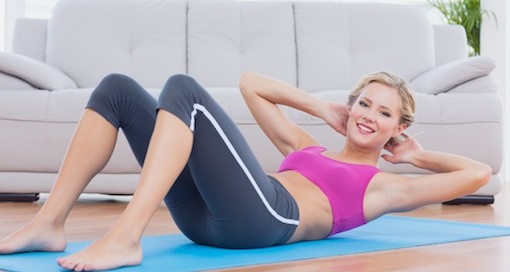 Active Lifestyle
January 14, 2015
6 In-Home Workouts To Try Today
With everyone spending a lot more time indoors, staying active is a challenge we're all facing!
Avoiding weight gain can be a challenge when you're stuck inside staying safe. You can still get a quality workout right at home, even if you don't have fancy equipment.
Here are six at-home workouts to try today:
Simple cardio workouts (no equipment needed)
You don't need a treadmill or stationary bike to get a good cardiovascular workout at home. Here are a few heart-healthy options anyone can do at home:
Jumping jacks – Not just for grade school kids anymore, jumping jacks are finding themselves a part of fitness routines all over. Jumping jacks provide a full-body cardio and strengthening workout.
Burpees – It's a silly name for a blood-pumping cardio workout that combines a squat, thrust, pushup and a jump. All you need is a little bit of room, and a little practice to get a great all-in-one workout.
Mountain climbers – Don't worry, you won't need any ropes or pitons for these mountain climbers. Think of mountain climbers as running in place while in the push up position. It may sound odd, but it's a great way to get a cardio workout, combined with core strengthening.
Strength & resistance workouts
All it takes to get a good muscle-building workout at home is some room and maybe a couple of small dumbbells if you want to get fancy. You can even use one-gallon jugs of Absopure water!
Pushups & Sit-ups – These are probably the two most basic exercises out there, but there is a reason they're still around. Never underestimate the power and simplicity of pushups and sit-ups.
Squats – A great way to work your legs, glutes and lower back, squats are an easy way to build strength lower-body strength.
Step Curl – All you need is a chair and a couple of small dumbbells (or even one gallon jugs of Absopure water) to get a total body workout. Step curls will make you sweat by combining aerobic steps and arm curls to help work your arms and legs at the same time.
You don't need anything besides some space and determination to stay in shape this winter. When it comes to keeping the pounds off, movement is key. Even the act of walking up and down your stairs can help improve your blood flow and increase your metabolism. Simple stretching and yoga routines are also simple, stress-free ways to keep your body active during the next few weeks.
As you develop an indoors workout routine that works for you, don't forget to stay hydrated! Studies have shown that proper hydration is the key to exercise success. Keep a bottle of Absopure water nearby and replenish your body with the fluids it needs to recover from a good workout.
Do you have a simple in-home workout routine? What exercises would you recommend for people looking to stay in shape?