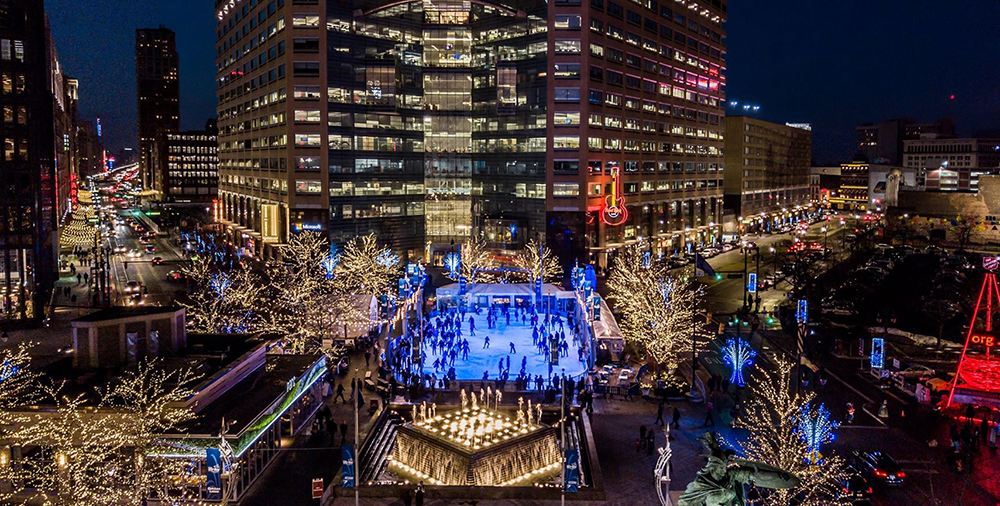 Community
February 5, 2020
Down in the "D" Winter Fun Activities at DDP Parks
Looking for something to do this winter? Downtown Detroit is your one-stop shop for family-friendly fun. Grab a pair of skates, watch a movie, play a game or simply experience Downtown at any one of the Downtown Detroit Partnership world-class parks. Drawing in more than 1.5 million annual visitors, there is a reason that the DDP's events and public spaces are the talk of the town. Here is a list of must-attend events in downtown Detroit during this winter season.
Winter Blast
Join us Feb. 7-9 for the Quicken Loans Winter Blast Weekend! Grab some friends or family and participate in a weekend of action-packed winter fun with opportunities to enjoy FREE ice skating, along with ice sculptures in the Ice Garden, snowboard, skiing, live music, marshmallow roasting, zip lining and more. Those feeling especially brrr-ave should participate in the Winter Blast Polar Plunge at Campus Martius with donations supporting Special Olympics athletes in Detroit. Check out all the event details and choose your way to chill out in downtown Detroit!
Frankenmuth Rink at Campus Martius
Grab your skates or rent a pair and enjoy ice skating at the Frankenmuth Rink at Campus Martius, with skating available seven days a week and on holidays. Take that special someone out for a skate on Galentine's Day on Feb. 13 or Valentine's Day on Feb. 14, with added entertainment and drinks at the Rinkside Bar. Check out the full schedule for timing and prices and plan your next skate.
February Flicks
Enjoy free, family-friendly movies all month long inside a cozy, heated tent at Beacon Park! This February, Beacon Park returns with another year of February Flicks as the park transforms into the best cinematic experience around, complete with a big screen, comfy couches and cool activities for children following the movie. Stock up on your favorite movie theater snacks at the concession stand and catch a 1 p.m. or 4 p.m. showtime. See below for the full schedule of flicks!
February Flicks Schedule:
Saturday, Feb. 8: Toy Story 4 (G)
Saturday, Feb. 15: Aquaman (PG-13)
Saturday, Feb. 22: How to Train Your Dragon: The Hidden World (PG)
Saturday, Feb. 29: Avengers: Endgame (PG-13)
Free Game Nights
Have a free Friday night? Come to Beacon Park from 7-10 p.m. on Feb. 28, March 20 and April 17 for a free night of games. Grab some friends and grab a drink from Lumen Detroit next-door and enjoy a variety of competitive and cooperative games for all ages and skill levels. With a selection of games curated by Social Sports and The Loaded Die, game nights at Beacon Park are the perfect way to settle in and settle scores with friendly fun.
Mardi Gras Weekend at the Frankenmuth Rink
Celebrate the traditions of the sweet south on the ice at the Frankenmuth Rink at Campus Martius, Feb. 21-22. Take on the joys of Mardi Gras with New Orleans classic cocktails, available at the Rinkside Bar, and dress to impress in green, purple and gold while you skate your way around the rink to a live New Orleans DJ!
St. Patrick's Day at Beacon Park
Celebrate St. Patrick's Day right, with food, games, entertainment and activities, all available at Beacon Park! The world-class public park will be transformed into an Irish pub on March 14 from 1-5 p.m. Channel your inner Irish with traditional Irish beer and thematic cocktails, along with a variety of other great food and drinks (like Absopure water) available for purchase inside the heated tent.
We hope you and your family find something to enjoy this winter in downtown Detroit. We are proud to be a year-long sponsor of the Downtown Detroit Partnership. Be sure to grab a bottle of Absopure at one of the parks, even during the cold winter weather. Enjoy the fun!
*Photo courtesy of DDP