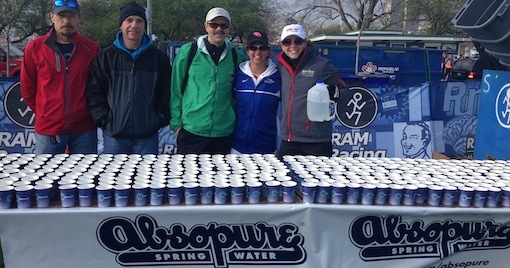 News
May 8, 2014
Absopure Hits the Ground Running With New RAM Racing Partnership
As a company that's committed to helping people live a healthy and active lifestyle, we couldn't be more excited to partner with RAM Racing, a Chicago-based race organization that hosts a collection of "race parties," half-marathons and triathlons for families, fitness enthusiasts and runners in the local community. As the Official Bottled Water Sponsor of RAM Racing, we'll be helping Chicago runners stay hydrated by providing our natural spring water at recovery stations and finish lines.
To kickoff running season and celebrate our new partnership with RAM Racing, we hosted a giveaway on our Facebook Page and gave two lucky winners a free registration to one of RAM Racing's most festive events, the Cinco de Miler. But, the party didn't stop there. At the race, we gave spectators cheer signs they could write inspirational messages on to support their friends and family and sampled flavors of our Cap 10 All Natural Sparkling Mineral Water at our post-race party tent.
We had a blast at Cinco de Miler this past weekend and can't wait for the seven other events RAM Racing has planned this year! Next up, the North Shore Classic Half Marathon & 5K in Highland Park, IL. We hear it has one of the best half marathon courses in the country and hope to see you there! Until then, here are some helpful hydration tips to help you prepare for your next race. Don't forget to take us along with you on your next run! You can find our bottled water products at Berkots, Jewel, Meijer, Piggly Wiggly and Tony's in the Chicago area.
If you were unable to attend this fun-filled event, check out the slideshow below for an inside look at some of our favorite moments from the 2014 Cinco de Miler race in Chicago.
Love to run and live in Chicago? Tell us which RAM Racing event is your favorite!