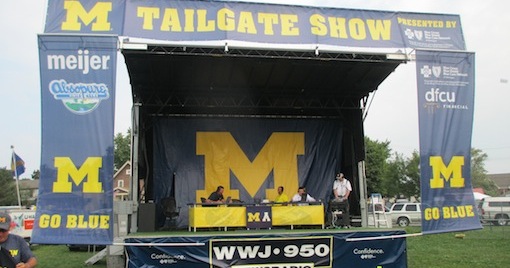 Community
September 10, 2014
Come Celebrate Michigan Football With Absopure at FanFest This Weekend
As the Big Ten competition heats up, we'll be there to keep the Wolverines cool under pressure. As the Official Bottled Water of Michigan Athletics, it's our job to help the mighty Wolverines stay hydrated so they can maintain peak athletic performance all game long.
Not only do we help Michigan's Division 1 athletes play at the top of their game, we help fans give it their all, too. Cheering on your favorite team takes hard work and dedication. Whether it's 70 and sunny, pouring ran or even snowing, you're there for every play, and we are too.
With several Hydration Stations located inside The Big House, we've been handing out free water to fans for more than 25 years—a tradition that began when Bo Schembechler became the athletic director for the University of Michigan. So, don't forget to stop by one of our stations to hydrate like a Wolverine and raise a cup to your favorite team.
You can also purchase our bottled water at any concession stand inside the stadium. There are also several concession stands that just sell Absopure water. That way, you don't have to wait in long lines and can get back to your seat to catch another Wolverine touchdown.
This weekend, we're giving football fans another reason to rejoice at the Michigan vs. Miami University game. We want you tailgate with us at FanFest before the big game!
Complete with a kid's zone, guest appearances from former Michigan football players and a live radio broadcast of the Tailgate Show, FanFest is the ultimate destination for fun before you head into the stadium. Former Wolverine and NFL player Jon Jansen and Doug Karsch will be there, too. Each week the duo hosts the Tailgate Show to highlight some pre-game stats and discuss all things college football.
Located kitty-corner from The Big House at the corner of Stadium and South Main, FanFest is open to the public and starts at noon. We'll be there for the party and have a tent set up. So, come stop to say hi, get refreshed and sample flavors of our Cap10 Natural Sparkling Mineral Water.
While you're there, ask about our home and office delivery service. Whether you're the leader of your household or making big plays in the boardroom, you're an MVP in our eyes, and all winners need to be fueled. We can't wait to see you there. Go Blue!