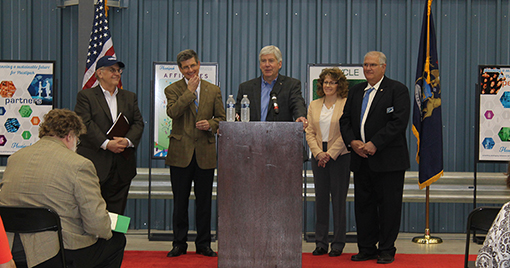 News
April 22, 2014
Bottled Water & Plastic Bottle Recycling Company Welcomes Governor for Statewide Recycling Announcement
We were honored to have Gov. Rick Snyder visit our Clean Tech recycling facility last week to announce his plan for expanding recycling initiatives in Michigan. As a company that takes pride in being good stewards of the environment, recycling is an essential part of our company's mission and we are excited to support the Michigan Department of Environmental Quality's goal of doubling statewide recycling efforts over the next two years.
As an industry leader in plastic bottle recycling, we celebrate the spirit of Earth Day year round through our dedication to developing environmentally friendly products and innovative recycling processes that are better for the environment, better for Michigan and better for you! All of our single serve water bottles are 100% recyclable and made of PET plastic, which is the most recyclable type of plastic and is also BPA free.
Recycling has been a top priority of ours for more than 25 years. In 1988, we established our own recycling facility, Clean Tech Incorporated. Located in Dundee, Michigan, our Clean Tech facility has helped created hundreds of green jobs in the state and keeps plastic waste out of landfills by processing more than 80 million pounds of plastic each year. This recycled plastic is used to create environmentally friendly products, such as our Eco-Pak water bottles, which contain a minimum of 10% recycled plastic.
In addition to our in-house recycling initiatives, we strive to promote recycling efforts within the communities we serve by providing our home and office delivery customers with designated recycling containers and collecting their empty water bottles. We also reuse and recycle the five-gallon jugs we provide customers for our water coolers and supply local running events with recycling containers participants can use to dispose of waste throughout the course.
We believe Gov. Rick Snyder's recycling reform is an opportunity for the citizens of Michigan to come together and make our beloved state an even better place to live. We encourage you join us this Earth Day and take the pledge to reduce, reuse and recycle. When the environment wins, everybody wins!