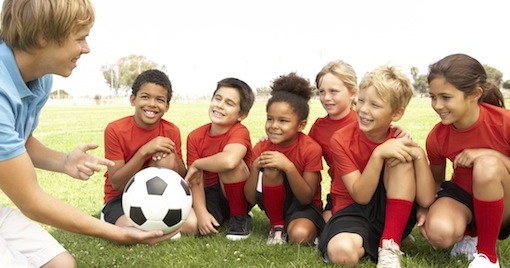 Healthy Living
April 10, 2014
Healthy Sports Drinks for Kids
Did you sign your child up to participate in spring sports this year? Getting kids involved in sports is a great way to keep them active, help them make new friends and teach them the importance of teamwork. It can also be an opportunity to teach them about healthy nutrition and why staying hydrated is an important part of staying healthy.
With the rise of sports beverages on the market, kids' sports drinks have become a popular topic amongst parents and pediatricians. Parents want to know: Are sports drinks safe for kids? Should my child drink them? Which sports drink is better?
According to the American Academy of Pediatrics, adolescents should consume sports drinks in limited amounts. While your kids may enjoy the red, orange and blue beverages that are commonly found at games and practices, pediatricians agree that consumption of these artificially flavored beverages are not necessary for proper hydration.
Although they claim to replace fluids, minerals and electrolytes lost from sweat during physical activity, one sports drink actually contains less nutrients than one serving of fruit. And, because sports drinks are high in processed sugar, they cause a spike in blood sugar and insulin levels, which can cause the body to store fat inefficiently and lead to obesity.
Instead of using sports drinks as a way to replace fluids and electrolytes after sports, Casey Seidenber, co-founder of Nourish Schools, recommends offering your child a bottle of water and some fruit, such as a banana or clementine, after their practice or game. Bananas and clementines contain B vitamins, vitamin C, potassium and magnesium, as well as other essential vitamins and minerals that can help your child recover after an extended period of physical activity. And, unlike the processed sugar included in sports drinks, fruit contains fiber, which allows natural sugar to be absorbed slowly into the bloodstream.
So, what's the best "sports drink" for kids? Pediatricians recommend that kids drink water to replace fluids lost through physical activity and maintain a balanced diet of fruit and vegetables to obtain essential nutrients, such as vitamins and minerals.
If you're looking for a natural way to keep your child hydrated during sports this spring, our natural spring water comes in a variety of sizes that are perfect for kids to grab on-the-go. While our 10-ounce water bottles are perfect for kids to take to practice, our 6.5-ounce Absopure Packables are designed to fit easily in young kids' hands as they run outside to play.
No matter what activity your child is involved in this spring, it's important to make sure they're staying hydrated. So, whether you're taking them to soccer practice or little league, make sure they have a water bottle with them and encourage them to drink from it often.