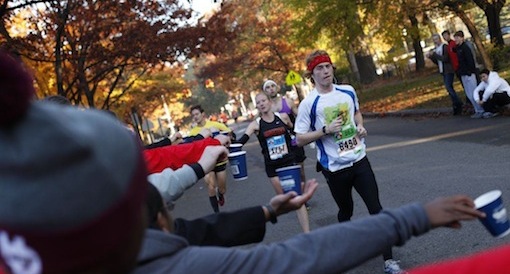 Healthy Living
October 14, 2014
Running Hydration Tips from Our Friends at The DMC
This is a guest post from Kristy M. Smith, M.D., of DMC Sports Medicine. DMC Sports Medicine and Absopure Water are official sponsors of The Detroit Free Press Marathon.
As an active member of the running community, we sponsor many races throughout the state of Michigan year-round, including The Detroit Free Press Marathon. Now that the summer weather has subsided and cooler temperatures have set in, we teamed up with our friends at the Detroit Medical Center to provide some training tips for those of you who have races planned throughout the fall and winter months. So, whether you're running a marathon or your first 5K, use these running hydration tips when preparing for race day.
You know what they say, you are what you eat—or drink—for that matter. The human body is mostly water. As the seasons change, I get a lot of questions from runners on how to stay hydrated as they prepare for running in the cooler, less humid days of fall.
Preparation is key
It's all in the preparation. Just as you have spent the last several months preparing for your marathon, preparation is everything especially when it comes to hydration. This preparation begins 4-6 days prior to race day. One way to assess your level of hydration is to look at the color of your urine. If your urine is a pale yellow color then you are on the right track. Dark yellow urine in small amount means you need to increase your water intake leading up to the race.
Pre-race hydration
Pre-race hydration should include 5 to 7mL (30mL is about 1 ounce) for every half pound of body weight. The pre-race hydration should start at least four hours prior to the race.  Be careful not to drink too much before the race or you will end up regretting it later. I suggest that you stop taking in fluids at least 45 minutes before the race begins. Getting on the scale for a pre-race weight will help you with determining how much weight you lost during the race and how much to drink following completion.
Race day hydration
Hydration during the race should be based on your thirst. You have worked very hard to get to race day by listening to your body so don't stop now! Stopping at hydrations stations on the course when you are thirsty is the best way to stay hydrated while running and avoid drinking too much water, which can lead to a condition called hyponatremia. Hyponatremia is when the body has too much water in the blood and the salt content of the blood becomes too low.
Post-race hydration
Post race, it is recommended that you drink 16-24oz of water for every pound lost during activity. So step on the scale and compare your pre-race weight, do the math and start drinking!
What are your race day hydration tips? Share in the comments below.
About DMC: The Detroit Medical Center's record of service has provided medical excellence throughout the history of the Metropolitan Detroit area. From the founding of Children's Hospital in 1886, to the creation of the first mechanical heart at Harper Hospital more than 50 years ago, to our compassion for the underserved, our legacy of caring is unmatched.