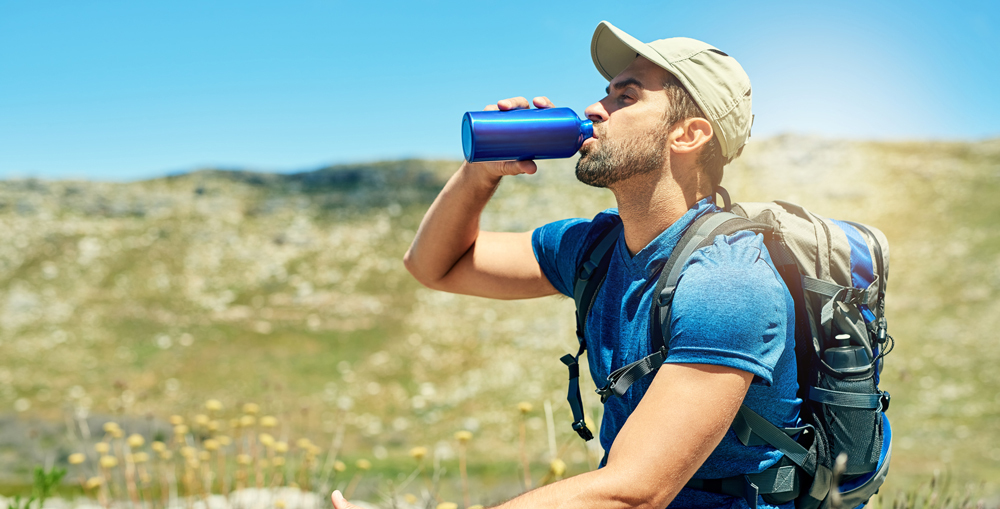 Healthy Living
July 21, 2023
Convenient Ways to Carry Water While Running
Water plays a crucial role in maintaining our overall health and well-being. Staying hydrated is especially essential for runners. Here is a breakdown of some convenient ways to carry water while running to ensure you stay refreshed and ready during your workout.
Insulated Water Bottle Carrier
In the world of running, it's important to find the ideal balance between convenience and hydration. Fortunately, there is a portable hydration solution when you use an insulated water bottle carrier filled with Absopure All Natural Spring Water.
Water bottle carriers offer significant advantages. Many come with a shoulder strap that creates a comfortable experience without making the added weight noticeable. Bottle carriers also have small pockets where you can store earbuds, cards or car keys without the hassle of bringing a separate bag. Most importantly, they keep your water at an optimal temperature—cool and refreshing.
Hydration Belt
Hydration belts are an excellent choice if you're trying to balance style and carry a high volume of water.
Hydration belts come in many stylish colors and patterns and include even more pockets to store a phone or wallet. Increase hydration and Absopure Water capacity on those lengthier runs when you buy a belt with multiple water bottle carriers. Sizing and proper fitting are crucial; test them out to prevent bouncing or sliding during your jog.
Hydration Vest
Hydration vests excel in the summer heat, humidity or long-distance runs. With their weight evenly distributed across the chest and back, these vests offer ample storage for your Absopure Plus Electrolyte Water and provides convenient access to hydration through a built-in straw. Sometimes a hydration vest can seem like you're adding another layer of clothing and cause increased back sweat, but that's just part of the natural cooling process and your body's way of thanking you for keeping it well-hydrated.
Water Backpack
Similar to hydration vests, the water backpack provides a unique option for carrying larger water capacities. The design features a vertical hydration bladder along the spine and a tube with a one-way straw/suck spigot that reaches the front strap, allowing for easy on-the-go hydration.
Many runners prefer water backpacks because they provide a snug and comfortable fit, and they come with larger capacity hydration bladders that can hold up to three liters so you can eliminate the need for frequent refill stops—meaning you can carry almost an entire 1-gallon jug of Absopure Water! Although cleaning and drying the components of the backpack can be time-consuming, you will avoid ruining the gear with bacteria growth.
How Much Water to Drink While Running:
Maintaining a proper hydration level is vital for peak performance and overall well-being. Current guidelines recommend drinking anything from 6 oz to 12 oz of fluids every 15-20 minutes of exercise. Ensure you are fueled for runs by listening to your body, monitoring sweat rates and adjusting water intake. Training during humid summer conditions makes you sweat more. With these convenient ways to carry water and guidelines, confidently conquer your goals while staying hydrated and energized.