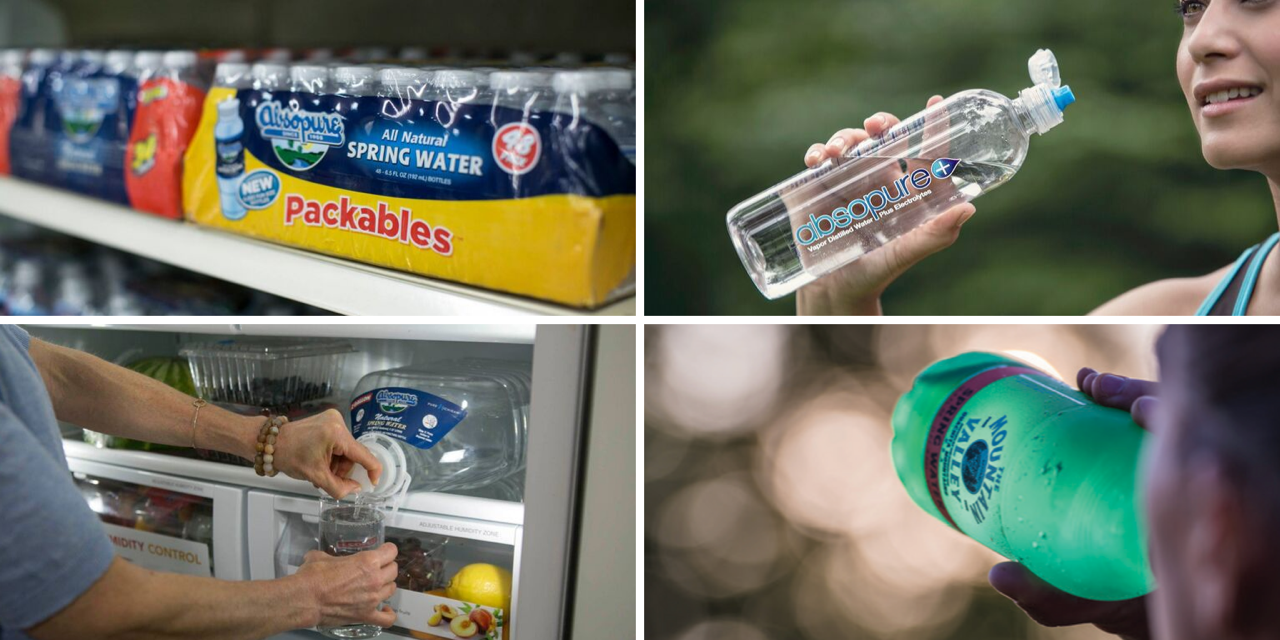 Refreshing Thoughts
October 4, 2019
4 Products You Might Not Have Known Were Available from Absopure
For more than 100 years, Absopure has been making and distributing refreshing bottled water products. We offer a large range of sizes from 6.5oz bottles to 5-gallon water cooler jugs, with Natural Spring, Steam Distilled and Purified Drinking water being some of our most popular. Even if you're a fan of Absopure, you might still not know the range of sizes and different products we offer—read on for some Absopure products that you might not have known were available for purchase and delivery!
Whether you enjoy maintaining an active lifestyle or if you're a busy parent, Absopure Plus could be your new go-to bottled water! Hydration is important, and that's why we're proud to offer Absopure Plus. To make this product, we add electrolytes to Absopure's Vapor Distilled water, which helps you stay hydrated no matter what your day brings. Absopure Plus is available in a 500ml 24-pack, along with single 700mL sport cap and 1L bottles.
Absopure Packables are smaller Natural Spring water bottles designed for kids. The 6.5-ounce bottles fit in kids' hands with ease, are 100% recyclable and perfect for lunch boxes and traveling. In addition, it's a much healthier alternative to sugary juice boxes or sodas. Packables aren't just for kids! Adults also love Packables as they fit easily inside a purse or a runner's belt.
Our 2-gallon fridge dispenser fits into fridges easily and comes with a self-venting valve to make it easier than ever to dispense crisp, cool Natural Spring water. With this container, there's no need to puncture a hole before dispensing water—easy access to hydration! This product can be purchased in stores across the mid-west.
Mountain Valley's iconic green glass and plastic bottles of spring and sparkling water can be delivered right at your doorstep with Absopure delivery. Absopure is proud to be the partner of The Mountain Valley Spring Water in Michigan. Bottled at a single, protected spring deep in the Ouachita Mountains since 1871, this water is rich in minerals and boasts a crisp, clean taste. There are a wide range of available sizes, along with different sparkling options including lime and blackberry pomegranate. Get Mountain Valley Spring Water delivered your home or office today!
Our home delivery option and store locator make it easy to try out our many different products—what's your favorite Absopure product?