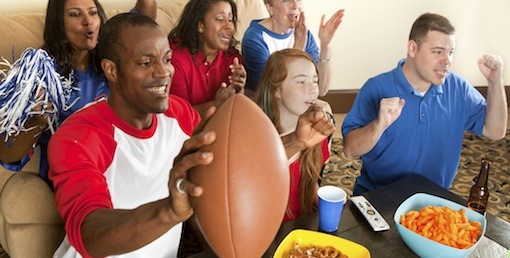 Refreshing Thoughts
January 28, 2015
Power Your Big Game Party With These Michigan Brand Foods!
Getting the gang together to watch Sunday's big game? Give your guests a party spread that they'll remember with these game day essentials filled with great tasting Michigan brand foods.
Snack foods
Sure, you could throw a few bags of chips on a table and call it a party, but the big game calls for big ideas, so enter the Snackadium.
Fill the stands with a variety of Michigan snack foods like Uncle Ray's and Better Made chips, and then dip them into a field made of Garden Fresh hummus and Little Diablo salsa. You can build out the rest of this snack-filled stadium using more Michigan brands like Germack peanuts and McClure's pickles.
Entrees
Food makes the party, whether you're catering from a company like Olga's or Tubby's, or crafting a menu of your own.
A traditional big game party isn't complete without wings. You could go the traditional route with the fan-favorite spicy wings with some help from the Detroit Spice Company. Or, you can be a little more adventurous and experiment with some twists on the classic chicken wing like grilled Basque wings or Calgary hot wings.
There's also something about watching football and eating foods stuffed in other foods. It's kind of a tradition. If it's not noshing on delicious Bacon Mac and Cheese Egg Rolls, it's chowing down on cheese-stuffed jalapeno poppers.
If you're looking for a "stuffed" food with Michigan flair, try a U.P. Pasty stuffed with meat and potatoes!
Healthier alternatives
There isn't anything that says you can't offer lower calorie snacks that just so happen to taste great. Healthy Crunch granola, for example, makes a great compliment to (or replacement for) sugar-filled candies. Check out Michigan's own Cherry Republic for some delicious fruit and nut blends that will do well on your snack table.
Beverages
You're going to need some serious refreshment to wash down all of these Michigan made foods. It just so happens that Absopure is a proud Pure Michigan partner, and our Cap10 All Natural Sparkling Mineral Water comes in 10 delicious flavors and goes well with just about any football food you're looking to serve.
So, pass on the pop and reach for any one of our delicious flavors of refreshing Cap10 All Natural Sparkling Mineral Water, including our newest additions – black cherry, orange mango and pineapple coconut. Cap10 also makes a great mixer for fun and creative drink recipes that are sure to please all of your guests.
What are some of your favorite, must-have foods for the big game?