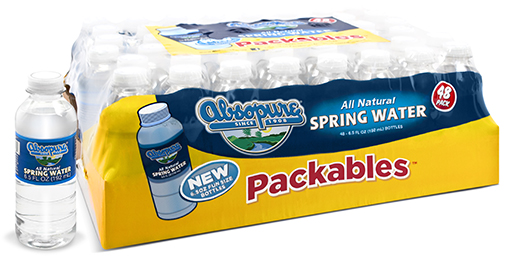 Healthy Living
August 20, 2014
Back to School With Absopure Packables
It's that time of year again! Parents are busy with Back to School shopping as they prepare their kids for another school year. As children return to the classroom to feed their growing minds, let's also think about how we feed their growing bodies.
Developing and encouraging healthy eating habits for kids is critical, and there's no better place to start than taking a look inside the lunch box.
Packing healthy lunches is easy. But how about healthy lunches that your kids will also enjoy? Set your kids up for success and start the new school year off right with a few of these kids lunches that are good for all ages:
Chicken Taco Roll Ups – Taco night is a favorite of many kids. These taco roll ups provide all of the flavor and fun, without the mess. Apply a thin layer of low-fat sour cream and salsa to a medium size wheat tortilla shell. Add some low-fat cheese, romaine lettuce and shredded chicken or turkey breast, roll them up and presto!
Pizza Party – Who doesn't love a good piece of pizza? Grab a slice of flatbread, or one of those thin sandwich rounds and spoon on some fresh tomato sauce. Then load it up with low-fat cheese, lean deli meat and veggies before popping it into a 350-degree oven for 12 minutes the night before.
Turkey Melon Pita – Not only is this sweet and savory combo delicious, but it's a great way to help your child get a serving of fresh fruit too. Slice a pita pocket in half and fill it with low-sodium turkey breast and cantaloupe slices. The curved melon fits perfectly into the pita pocket so they can enjoy the fruit with every bite!
Kraft Lunchables are also a great option for busy parents that want to make sure their kids can enjoy a healthier lunch while they're on the go. Lunchables Uploaded also come complete with a 10-ounce bottle of Absopure water.
Now that we've talked about good foods to pack, let's talk about healthy drinks for kids, too. Sodas and many fruit drinks are loaded with sugars. In addition to causing tooth decay, the sugars in these beverages are a major contributor to childhood obesity.
When you examine the potential effects of high sugar beverages on children, it's clear that healthy kid drinks are just as important to overall nutrition as healthy foods. And, it doesn't get healthier than natural spring water.
Everyone can stand to drink more water, and kids are no exception. That's why we're making it easier for little ones to get their five to eight cups per day with "Absopure Packables"—super portable water bottles that fit nicely into your child's lunch box.
Packing 6.5 ounces of clear, cool, all natural spring water, Packables are even re-sealable so they can keep the healthy hydration party going later when it's snack time.
Did someone say snack time? Try some of these healthy snacks that are both delicious and nutritious!
Fruit Smoothies – Frozen or fresh fruit blended with nonfat milk and Greek yogurt.
Pita Chips with Hummus – Substitute fresh vegetable slices for the pita for an even healthier snack!
GORP – Granola, Oats, Raisins and Peanuts. Simple and delicious.
So the next time you're loading up the lunch box, can the canned sodas, forget the fruit juices and reach for your favorite kids water bottle – Absopure Packables!