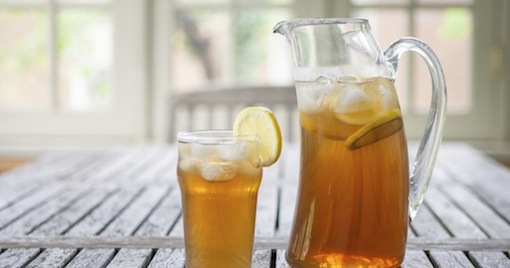 Refreshing Thoughts
June 26, 2014
6 Brew Over Ice K-Cups to Enjoy This Summer
Summer is officially here! Whether you'll be spending your days at the pool, barbequing in the backyard or working hard at the office, there's nothing more refreshing than sipping on an ice-cold beverage to beat the heat.
Now you can brew some of your favorite K-Cup flavors over ice to create the perfect iced beverage on a hot summer day! Just choose your favorite Keurig Brew Over Ice K-Cup flavor, grab a 16-ounce tumbler and fill it with ice. Then, select the 6 or 8 ounce setting and press brew to enjoy an instantly refreshing cup of your favorite iced beverage.
Here are six of our favorite Keurig Brew Over Ice K-Cup® flavors:
Donut Shop Sweet & Creamy Regular Iced Coffee
This K-Cup's name says it all! When you brew a cup of Donut Shop's Sweet & Creamy Iced Coffee, you can instantly indulge in a café quality beverage from the comforts of your home or office. There's no need to add cream or sweetener, either! This K-Cup packs the perfect portion of the highest quality Arabica beans, sugar and non-dairy creamer to create the perfect iced coffee. Simply press brew, and enjoy.
Green Mountain French Vanilla Iced Coffee
Green Mountain's French Vanilla Brew Over Ice K-Cups are the perfect way to stay refreshed and revitalized on a hot summer day. As the sun rises, fall back into a comfortable summer chair and sip on this delicious iced coffee blend that's infused with smooth vanilla flavor.
Green Mountain Nantucket Iced Coffee
Similar to Green Mountain Coffee's original Nantucket Blend, this full-bodied iced coffee strikes the perfect balance of zest and flavor to help you stay refreshed and recharged all day long. Whether you sip it slow or take it to go, there's no wrong way to enjoy it.
Celestial Seasonings Half and Half Perfect Iced Tea
You can't go wrong with this classic combination of unsweetened black tea and lemonade. Equal parts of tea and delicate citrus make this Brew Over Ice K-Cup both invigorating and refreshing.
Celestial Seasonings Unsweetened Black Iced Tea
Do you enjoy iced tea? Then we have exactly what you're looking for. We carry Celestial Seasonings Unsweetened Black Tea K-Cups for those who want a simple, yet smooth cup of pure iced tea. With a few ice cubes and the press of a button, you can instantly enjoy a no frills, full-bodied cup of cool deliciousness.
Celestial Seasonings Southern Sweet Perfect Iced Tea
For those of you who enjoy sweet tea and southern hospitality, we carry Southern Sweet Tea K-Cups that can be delivered straight to your door. Made with the highest quality black tea and natural cane sugar, it's enough to make any sweet tea lover smack their lips with delight. These K-Cups make the down-home country taste of sweet tea available anywhere you want.
If you're looking to cool down in the office this summer, call us today at (800)-499-9938 to schedule a sampling and sign up for a free trial of our office coffee service.
What's your favorite summertime iced drink? Tell us in the comment section below!