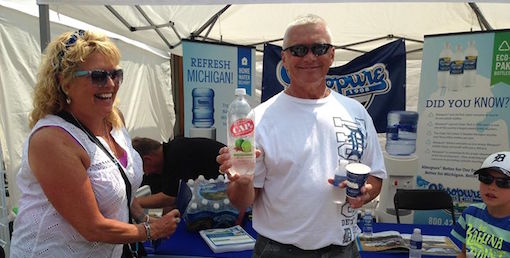 Community
July 28, 2015
Celebrating All Things Michigan-Made at Buy Michigan Now
Did you know this week (July 27–August 2) has been officially proclaimed as Buy Michigan Week? It all ends in one big party with the Buy Michigan Now Festival, taking place this weekend in downtown Northville.
If you've had the opportunity to attend this event before, you know how much fun it is! Not only do you have the opportunity to discover local businesses and sample tasty treats, there's live music, children's activities and so much more! You may even be surprised to find that some of your favorite products, foods and beverages are made right here in your own backyard.
Since its launch in 2009, the Buy Michigan Now festival has continued to grow and expand. We sat down with the Founder of Buy Michigan Now, Lisa Diggs, to learn more about the exciting things happening at this year's festival.
"The Buy Michigan Now campaign has always been about speaking positively about the state of Michigan," said Lisa. "We've expanded our mission to include the Michigan Positivity Project, which encourages people across the country to take to social media to share positive messages about their Michigan experiences."
Over the past year, Lisa and the team at Buy Michigan Now have been busy garnering support from celebrities who were born and raised in Michigan to share how their local communities shaped them as individuals and helped launch their careers. The long list of celebrities interviewed includes Chad Smith from the Red Hot Chili Peppers, actress Judy Greer, comedian Keegan-Michael Key and Shawn Christian of "Days of Our Lives."
"It was actually through the Michigan Positivity Project that Shawn and his co-star Arianne were introduced to Detroit's new Outdoor Adventure Center, the only facility of its kind in the country," said Lisa. "As a result, they decided to bring their amazing mentoring program, Arrow-Heart Adventure Camps, to children in Detroit."
Arrow-Heart inspires kids to make better choices and to build character, confidence, credibility and critical thinking skills through outdoor adventures.
Shawn and Ari will be in attendance at this year's Buy Michigan Now Festival. You can sign up for your chance to meet them by buying a ticket to one of the following events listed below. Proceeds will be used to help bring Arrow-Heart to inner-city youth in Detroit. Don't delay, grab your tickets here.
Shindig @ the Shop at The Village Workshop: Mix, mingle and explore Northville's new makerspace along with Shawn and Arianne. Attendees will enjoy local foods and beverages, live entertainment and watch creative projects come to life. Every ticket comes with a free souvenir made on site at The Village Workshop.  
Toast of Michigan Beer & Wine Tasting at Northville Square: Sample the many Michigan-made wine and beer offerings. A strolling dinner, dessert bar, live entertainment and silent auction are all part of the event.
Brunch With a Heart Garage Grill & Fuel Bar: This is a great "Girls day out." Enjoy brunch with Shawn and Arianne at the Garage Grill & Fuel Bar in downtown Northville. Brunch will be served buffet-style in a private room and Shawn and Arianne will be stopping by each table to chat.
As a Pure Michigan partner and Michigan-based business, we'll be one of the many companies participating in the Buy Michigan Now Festival this weekend. In addition to sampling our new Absopure Sparkling Natural Spring Water, we've teamed up with Buy Michigan Now to support the Michigan Positivity Project and Arrow-Heart Adventure Camps. For every bottle of Absopure water purchased during the festival, Buy Michigan Now will donate proceeds to these great causes.
We hope you'll join us in downtown Northville this weekend to celebrate Michigan-based businesses and sample Michigan-made products. Admission and parking are free and it's a great opportunity to meet the people who run these companies and try their products for the first time.
But why stop there? Take it a step further and take the pledge to Buy Michigan Now. Click here to tweet about your favorite Michigan brands!