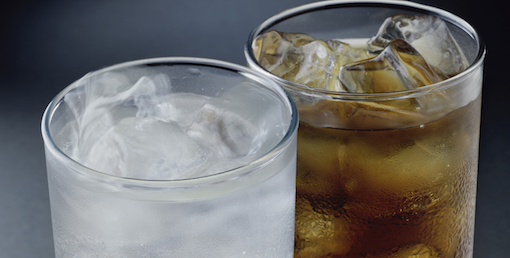 Healthy Living
July 28, 2016
Can Drinking Water Instead of Soda Help Cut Calories?
Small changes, like drinking a glass of water instead of a bottle of soda, can jumpstart the journey to a healthier you. While a sweet, bubbly glass of soda may sound delicious and refreshing, the empty calories in the sugary beverage can quickly add up and create an unhealthy lifestyle. Is drinking soda instead of water worth it?
The Drinking Water Research Foundation recently reported an estimated 3.9 billion calories could be cut from 2.5 million adults' diets in the United States if soda or other sugary beverages were replaced with water. This healthy habit could also take 1.6 million adults out of obesity.
Before you reach of a can of soda, consider drinking a glass of calorie-free water instead. Replacing a can of soda with a glass of water every day will save you approximately 100 calories, which can make a huge difference in your daily calorie intake over time.
Most sodas contain 40 to 80 grams of sugar per can or bottle, which is the equivalent to eating 20 to 40 sugar packets! Scary, right? What's even scarier are the health hazards drinking soda can lead to: diabetes, heart disease, weight gain, tooth decay, kidney stones, osteoporosis and many more.
Try staying healthy and hydrated with fruit infused water if plain water isn't piquing your interest. This refreshing twist adds vitamins and nutrients found in the fruits added to your water. Plus, making a batch of fruit infused water is easy as 1, 2, 3!
Fill a pitcher with Absopure water.
Cut up your favorite fruits and add a few slices and cubes to the pitcher.
Chill in the refrigerator and enjoy! The fruit flavor will grow stronger the longer it steeps in the water.
If you're craving soda but want to ditch the unnecessary calories and sugar, try Absopure's Cap10 All Natural Sparkling Mineral Water. This tasty beverage has a great flavor without the unhealthy additives like high-fructose corn syrup, synthetic dyes, chemicals and preservatives. For a zero calorie beverage, Cap10 packs a flavor punch! Try it in one of our thirst-quenching flavors: lemon-lime, lemon, lime, wild berries, cranberry-lime, cherry-raspberry, natural, black cherry, orange mango and pineapple coconut.
Whether you're packing snacks for a road trip, making lunch for your family or stirring up a batch of your favorite homemade beverage, ditch your pop habit and grab a healthy, refreshing bottle of Absopure. Your health and waistline will thank you.
Have you tried drinking more water instead of soda? Tell us about how you ditched the empty calorie beverage.