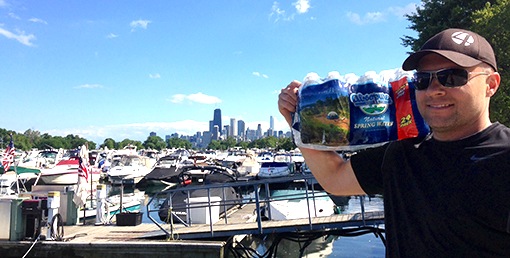 Community
September 25, 2014
Where Can You Find Absopure in the Greater Chicago Area?
While you may know us as a Michigan-based company, you can find Absopure water in other states, too! As one of the top 10 water companies in the country, we're always looking for local retailers and grocery stores to make our bottled water available for customers from coast to coast. You can find our bottled water in some of the biggest cities across the nation—including the Greater Chicago Area!
You can pretty much find Absopure water at any major grocery store in Chicagoland, including:
Berkot's
Butera
FairPlay
Garden Fresh
GFS Marketplace
Jewel-Osco
Meijer
Piggy Wiggly Stores
Strack & VanTil
Sullivan's
SuperLow
Tony's Finer Foods
Treasure Island
Ultra foods
With a wide selection of bottled water products available at each location, including our Natural Spring Water, Steam-Distilled Drinking Water, Purified Drinking Water and Infant Drinking Water with Natural Fluoride, you can discover which type of Absopure water suits your tastes.
We provide Chicagoland grocery stores with a variety of water bottle sizes, including our 6.5-ounce Packables, which fit perfectly in children's lunchboxes. Other popular sizes include our 10-ounce water bottles for older kids, 16.9-ounce half-liter bottles for hydration at home and 25-ounce sports cap bottles for days at the gym.
In addition to the larger retailers listed above, there are even Chicago-area stores that will deliver Absopure water to you! Whether you're at the office, in the park, at the beach or on a boat, Milk & More will deliver our All Natural Spring Water, along with any other gourmet snacks or beverages, to you. Like us, they believe in providing customers with high-quality products that enable them to live a healthy and active lifestyle.
Live in the Greater Chicago Area? The next time you're out and about or feeling a little thirsty, don't forget to pick up some Absopure water at your favorite grocery store!
If you're interested in obtaining a full list of retailers in the Chicagoland market, send us an email us at socialmedia@absopure.com.