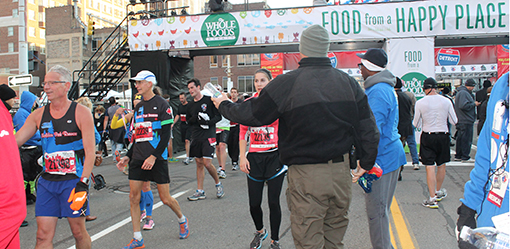 Community
October 24, 2013
Absopure Shows Its Detroit Pride at The Detroit Free Press Marathon
There's only one day a year when you can find the streets of Detroit busy and bustling with people, yet quiet and still at the same time. Starting as early as 4:30 a.m., this quiet energy builds as thousands of volunteers, spectators and runners prepare for one of the city's most beloved events—The Detroit Free Press Marathon.
The Detroit Free Press Marathon has been breathing energy into the city of Detroit and uniting runners from all walks of life since 1978. Whether they hail from Michigan, Kentucky, California or Canada, every runner travels to Detroit to run for a purpose. While some run for the love of the sport or in remembrance of others, others run to support a cause or celebrate significant milestones.
As a company with deep roots in Detroit and a commitment to helping people live a healthy and active lifestyle, we are proud to support this amazing event and its participants every year. In preparation for this year's race, we donated:
More than 230,000 cups for nearly 10,000 gallons of water at the hydration stations.
30,000 individual bottles at the finish line.
More than 150 recycle boxes for used bottles and cups.
Although the event just took place this past Sunday, we're already looking forward to next year's race! Congratulations to all of the runners who participated in this event, and thank you to all of the volunteers who helped hand out water at stations throughout the course.
If you were unable to attend this spectacular event, or simply want to relive the action from this past weekend, you can check out photos from the race on our Facebook Page.
Did you attend the Detroit Free Press Marathon this past weekend? If so, did you attend as a volunteer, a spectator or a runner, and what was your favorite part of the event?