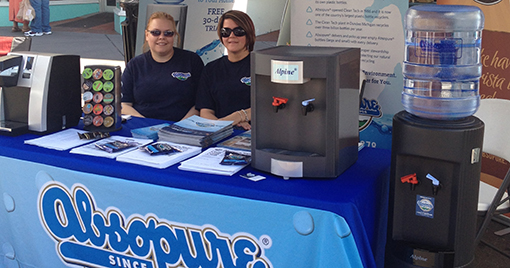 Community
July 30, 2014
Absopure Teams Up With Buy Michigan Now
As a Pure Michigan partner, we're dedicated to supporting events that promote Michigan as a great place to live, work and play. One event that tops our list is the Buy Michigan Now Festival, which is taking place in Northville, MI this year.
Now in its sixth year, the Buy Michigan Now Festival is a weekend-long event in celebration of Buy Michigan Now Week (July 28 – August 3). Featuring more than 100 Michigan businesses, the festival allows people to discover unique products made right here in Michigan.
Launched in 2007, the Buy Michigan Now campaign was created to encourage residents to support the state's economy by purchasing Michigan-made products from Michigan-based businesses.
"Every day we make purchase decisions," said Lisa Diggs, founder of the Buy Michigan Now movement. "As Michigan residents, we have the ability to make a positive impact on Michigan commerce by supporting local businesses and keeping more of our hard-earned dollars in state."
As a Michigan-based business producing a Michigan product, we'll be one of the many companies participating in the Buy Michigan Now Festival this weekend. In addition to sampling our Cap10 All Natural Sparkling Mineral Water, we've teamed up with Buy Michigan Now to raise money for Suits for Soldiers, a nonprofit organization that helps veterans transition into a new career by providing free suits and business clothing, resume assistance and interviewing skills. For every bottle of Absopure water purchased during the festival, Buy Michigan Now will donate proceeds to this great cause.
Join us downtown Northville to celebrate Michigan-based businesses and sample Michigan-made products this weekend. With tasty treats, live music and children's activities, the Buy Michigan Now Festival is an event the entire family can enjoy. It's a great opportunity to meet the people who run these companies and try their products for the first time. If you find something you like, ask your local grocer to carry it in their store.
Will you take the pledge to Buy Michigan Now? Find out which Michigan products you can buy at your local grocery store and download the Buy Michigan Now Grocery Guide today!