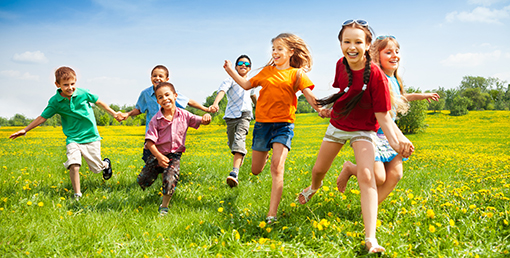 Active Lifestyle
June 16, 2016
6 Kid-Friendly Park Activities To Enjoy This Summer
Kids rejoice—school's out for summer! Extra freedom and free time can often translate to spending too many hours watching TV or playing video games, and not enough on outdoor activities. To break this bad, sedentary habit, consider visiting your local park.
Whether your park is a small recreational space, or nationally recognized, try one (or all!) of our six favorite kid-friendly park activities this summer. 
Explore the trails
Hiking and biking, and trails, oh my! Before visiting your local park, be sure to check out the trail maps so you can find the beautiful, scenic paths with ease. If hiking isn't your speed, try trail running or cycling. In addition to reaping numerous health benefits, the fresh air will allow you to connect with nature and de-stress. Don't forget to bring a bottle of Absopure with you to stay hydrated on the trails.
Compete in the Summer Olympics
Maybe you didn't qualify for the 2016 Summer Olympics in Rio de Janeiro, but that's okay! Now is the time to get your little ones excited for the most anticipated sporting event of the summer. Try modifying a few of the most popular games to your child's skill level, like track and field, field hockey, badminton, golf, gymnastics and volleyball. Don't forget to bring necessary equipment—running shoes, balls, rackets and sticks—with you to the park for fun and fierce competition.
Pack a picnic
You're never too old (or young!) for a picnic. Grab a blanket, pack a basket full of your favorite Michigan-made snacks, and find a grassy patch of shade. Your kids will love the change of scenery for their alfresco meal. For a flavorful alternative to sugary carbonated beverages, pair your spread with our All-Natural Cap10 Sparkling Mineral Water. Don't forget to clean up after yourselves and recycle!
Educational games
Although class isn't in session, that doesn't mean your kids' brains should take a break. Keep their minds stimulated at the park by turning the surrounding wildlife into an educational game. Bring a pair of binoculars and a birdwatching book or botanist book from your local library. See who can find the most species of birds, or who can recognize the identity of different plants.
Geocaching
Do you have any amateur pirates in your family? Try geocaching, an outdoor treasure hunt. Geocachers use GPS coordinates and clues to find knick-knacks hidden at specific locations. It's a great way to combine technology with outdoor play for the whole family to enjoy.
Splish, splash
Does your local park offer public beach access? If so, pack your bathing suit, towel and sunscreen—we're going swimming! Getting in the water is a great way to cool down on the hottest summer days, whether you're swimming laps back and forth, or using flotation devices to lounge and relax.
Outdoor play can affect your child's hydration levels in the summer. Be sure to grab a few bottles of Absopure Packables or Absopure Plus before you head to the park to encourage proper hydration for kids.
Do you enjoy spending time outdoors in the summer? Share your favorite kid-friendly park activities with us in the comments!