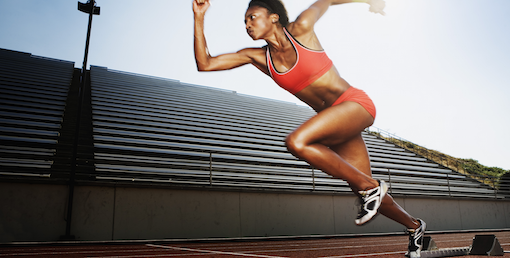 Active Lifestyle
August 4, 2016
5 Summer Workouts To Channel Your Favorite Athletes
This year's most anticipated international sporting event is about to kick off, and athletes from around the globe will be showing off their talents, strengths and athletic abilities to viewers worldwide. You don't have to be a record-breaking athlete to stay active this season. Try these summer workouts to help you stay in shape while you channel your favorite athletes.
Swimming
Make a splash in your workout routine this summer at the pool! Swimming is a fantastic workout for all ages and athletic abilities. The low-impact sport is a full-body workout. If you're questioning your swimming abilities, a pool workout doesn't have to be focused on laps. Try taking a water aerobics class at your local pool, or tread water for a few minutes. You can even raise your heart rate and exert a healthy amount of energy splashing around with your friends and family!
Running
Throw on your running shoes, find a training plan and get ready to pound the pavement. Running is one of the most popular ways to stay in shape, especially during the summer. It's the ideal time to train for one of our favorite races to run before the end of 2016. If you're looking to shake up your running routine, try hitting the trails for a change. The diverse terrain will work muscles you don't typically exercise while running on the road. The scenic views and serene routes are just a few trail-running perks, too! Whether you're on the pavement or trails, remember to bring along a bottle of Absopure Plus, our electrolyte water that's changing the hydration game, to avoid dehydration.
Volleyball
Change up your summer workouts with a game of volleyball. Volleyball consists of running and lunging around the court or sand to spike, set and serve the ball. You'll also exert your leg muscles when you jump to make contact with the ball. Whether you're competing in the sand on the beach, or taking on your opponents on the courts, volleyball is a fun way to stay in shape.
Cycling
Remember how fun it was to ride bikes up and down the street with your friends when you were a kid? Rekindle that excitement by incorporating cycling into your summer workout routine. Like swimming, cycling is a low-impact exercise, perfect for those who have joint problems. Cycling will tone your calves, glutes and quads, all while improving your overall cardiovascular health. Whether you're leisurely riding on your favorite scenic road or speeding down a nature trail on your mountain bike, there are many ways you can enjoy cycling this summer!
Gymnastics
Summer workouts aren't just for adults! It's important to keep your kids healthy and active during the summer, too. Try signing your child up for gymnastic classes, or just have fun somersaulting and cartwheeling from the comfort of your own yard. Attending a gymnastics class is a great way to socialize your child and keep them active. Remember to send your child to class with an Absopure Packable to stay healthy and hydrated while they work on their new flips, tricks and routines.
Staying hydrated while you burn calories is extremely important. Make sure to drink enough water when exercising to stay healthy, happy and hydrated.
What are some of your favorite summer workouts? Tell us in the comments! We're always looking for new and fun ways stay in shape.