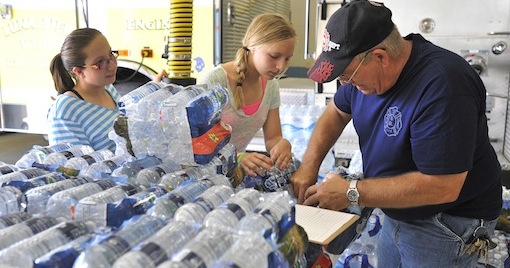 Refreshing Thoughts
September 5, 2014
National Preparedness Month: How to Create an Emergency Preparedness Kit
Photo courtesy of The Detroit News
Disaster can strike anywhere, at anytime. From forces of nature (tornadoes, hurricanes and flash floods) to industrial accidents (water main breaks, chemical leaks and power outages), there are many types of emergencies that can have a large impact on local communities.
Are you prepared to take action and be a leader in your community? In honor of National Preparedness Month, we're sharing how to build an emergency preparedness kit that you can use to take care of yourself, and those you love.
In an emergency situation, access to clean water is critical. That's why we're prepared and ready to help communities during times of need. When Hurricane Sandy devastated communities along the east coast, and a water crisis impacted residents of Charleston, West Virginia, and more recently Toledo, Ohio, we were able to provide bottled water to citizens affected by these disasters.
Depending on the severity of the situation at hand, you may go days without access to electricity or running water. In the event that local rescue crews and first responders cannot reach you immediately, you'll want to create an emergency preparedness kit that contains essential elements you'll need to stay safe.
When creating a disaster preparedness kit, it's important to consider the needs of your family members. Do you have elderly parents, disabled individuals or small children living with you? Plan for their needs accordingly.
A standard emergency preparedness kit should include the following items:
At least three days of nonperishable food
One to two gallons of bottled water per person, per day
First aid kit and prescription medication
Tent, sleeping bags and extra blankets
AM/FM radio or NOAA Weather Radio
Personal documents, including identification and insurance cards
Baby wipes, hand sanitizer and garbage bags for hygiene purposes
Dust mask to protect you from contaminated air
Can opener and eating utensils
Matches and/or lighters
Flashlight
Cell phone and charger
Extra batteries
You may have to ration your food, but you should never ration water. While the human body can go three weeks without food, water is a different story. Allow members of your family to drink according to their needs. You can help your family stay hydrated by avoiding foods that will make you thirsty and packing foods that have higher water content.
For more information about National Preparedness Month and emergency preparedness tips, visit ready.gov.