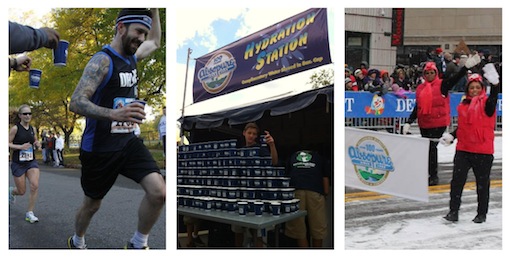 Refreshing Thoughts
August 27, 2014
10 Fun Fall Events To Mark On Your Calendar
Summer may be coming to a close, but that doesn't mean the fun is over yet. There are plenty of events happening this fall that you won't want to miss!
Here are 10 fall events we look forward to attending each year:
Detroit Jazz Festival. To kick off the fall season, we're celebrating the cool sounds of jazz at the Detroit Jazz Festival this Labor Day weekend. Now in its 34th year, the Detroit Jazz Festival is the world's largest free jazz concert that's open to the public. Complete with a lineup of world-renowned performers, educational activities for kids and a firework display, it's the perfect way to spend Labor Day with the family. So, come get down with us on the Absopure Pyramid Stage for live performances from your favorite jazz bands. Click here to download the performance schedule.
Michigan Football. We can't be the only ones who are excited for football season! As the Official Bottled Water of Michigan Athletics, we'll be cheering on the Michigan Wolverines all season long. Already know which home game you'll be attending this fall? Remember to keep an eye out for our hydration stations at The Big House. Come stop by to say hi and hydrate like a Wolverine!
Local JDRF walks. We're always happy to support great causes in our local community. That's why we've teamed up with JDRF chapters throughout Michigan and Ohio to provide water for local walks. We'll even be joining forces with our sister companies, Plastipak, Clean Tech, and Whiteline Express to raise money for the JDRF Walk to Cure Diabetes in Warren, and Ann Arbor, Michigan. Want to get involved? Click here to find a JDRF walk near you.
Tour de Troit. Love cycling? Then you'll want to check out Tour de Troit! With a mission to promote healthy living through running, bicycling and bicycle safety, Tour de Troit is Detroit's largest cycling event. This year, we'll be supplying riders with water as they explore some of Detroit's most historic sights and raise awareness about biking as a green mode of transportation.
ArtPrize. Have you heard about ArtPrize? It's only one of the most popular art festivals in the state of Michigan! For 19 days (September 24 – October 12) the city of Grand Rapids will be transformed into an arena where artists from around the world can display their creativity. What makes this art fair unique is that the public can vote for their favorite works of art, and decide which artist will walk away with the $200,000 grand prize. As a free event that's open to the public, it's a great way to get outside and have fun with the family this fall.
Brooksie Way Half Marathon. Like us, The Brooksie Way Half Marathon is dedicated to helping people lead healthy, active lifestyles. In addition to bringing people together for The Brooksie Way Half Marathon each year, proceeds from the event are reinvested into Oakland County and used to support fitness programs that are open to the public. We're proud to support The Brooksie Way's mission by providing bottled water at the finish line and helping runners stay hydrated.
Detroit Free Press Marathon. For more than 35 years, runners from around the world have come to Michigan for the Detroit Free Press Marathon. As a qualifying race for the Boston Marathon, the stakes are high. While some run in hopes of going to Boston, others run for the love of the sport or a special cause. We'll be there to show our Detroit Pride and make sure runners stay hydrated throughout the 26.2-mile course.
GO! St. Louis. As a yearlong sponsor of GO! St. Louis, we're happy to support the St. Louis running community by providing water to local races. With an event for every age and fitness level, GO! St. Louis encourages community members to live a healthy and active lifestyle. Coming up this weekend, they have the GO! Missouri™ KT82 Trail Relay, an 82-mile relay race that starts in St. Louis and finishes in Hermann, MO. They also put on a spooktacular Halloween Race each year. With a 1-mile fun run, 5K, 10K, half marathon and costume contest, it's a thriller!
RAM Racing Hot Chocolate 15K/5K Chicago & St. Louis. As the new Official Bottled Water Sponsor of RAM Racing, we're looking forward to the RAM Racing Hot Chocolate races taking place in Chicago, IL and St. Louis, MO this fall. Started in 2008, it is now the fastest growing (and sweetest!) race series in the country! Would you run for chocolate? Click here to find a race near you.
America's Thanksgiving Parade. As a century-old company with deep roots in Detroit, we're proud to support the America's Thanksgiving Parade. For 20 years, we've proudly provided our water to parade marchers, volunteers and event staff. We also sponsor the world-famous Turkey Trot before the parade each year. If you haven't had a chance to attend this beloved Detroit event, make plans to go this year.You'll make memories with friends and family that will last a lifetime!
Are you excited for fall? Tell us which events you'll be attending!