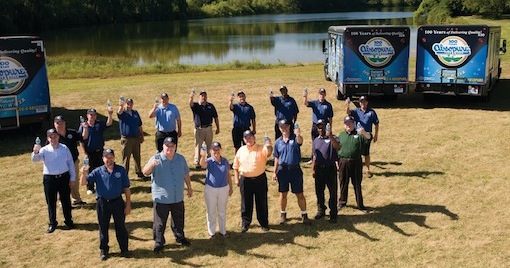 Absopure Delivered
February 20, 2014
What to Look for in a Beverage Delivery Service
Have you considered using a beverage delivery service for your home and office refreshment needs? From increased productivity and customer satisfaction to cost savings and sustainability, there are many benefits that come with utilizing a beverage delivery service.
At Absopure, we're dedicated to providing the highest quality bottled water and refreshment services. To us, that means providing our customers with world-class service and the largest selection of bottled water and coffee products for the best value.
Best value for your budget
We offer fully customizable refreshment solutions that fit any budget. No matter what your budget is, we have a wide-range of bottled water and coffee refreshment solutions to fit your needs. For just pennies per glass, you can have the highest quality coffee and bottled water delivered to your home or office, free of charge. At Absopure, we never charge a delivery fee and believe that every customer deserves to have access to the best, most reliable bottled water and coffee service.
Wide selection
With more than 70 varieties of Keurig® K-Cups, including Green Mountain Coffee, Café Escapes, Donut Shop and our own in-house blend of premium ground coffee, as well as national gourmet brands, like Maxwell House, Starbucks and Caribou Coffee, we can easily satisfy any coffee drinker's unique tastes. And, with eight Keurig® and traditional coffee brewers available to choose from, you'll be able to find the perfect coffee brewer for your refreshment needs.
Our selection of bottled water products is unmatched, as well. We carry Natural Spring Water, Steam-Distilled Drinking Water, Purified Drinking Water and Infant Drinking Water with Natural Fluoride in a variety of sizes, from our 6.5-ounce Packables to our five-gallon water cooler jugs. Some of the most popular sizes include our 10-ounce water bottles for older kids, our 16.9-ounce half-liter bottles and our 25-ounce sports cap bottles for days at the gym. We also have five-gallon water coolers available that come in a variety of colors, including stainless steel, to match any décor.
Sustainable products and services
At Absopure, we take pride in being good stewards of the environment. We provide our home and office delivery customers with designated recycling containers and collect their empty water bottles. We also reuse and recycle the five-gallon jugs used for our water coolers.
Recycling is a fundamental part of our company's mission. As such, we work hard to develop environmentally friendly products and innovative recycling processes. All of our single-serve water bottles are 100% recyclable, and our Eco-Pak bottles are made from recycled bottles, containing a minimum of 10% recycled content. We also have our own recycling company, Clean Tech, which processes more than 80 million pounds of plastic each year.
Fast delivery
With a fleet of more than 40 delivery trucks, we're always ready to respond to our customers' delivery needs. We offer our home and office delivery services in Michigan, Greater St. Louis, Central Illinois and the Greater Toledo Area.
Worry-free warranty
When you lease one of our five-gallon water coolers or coffee brewers, you can rest assured that we will replace your unit if it is not performing to your expectations. Our equipment lease program is all-inclusive, meaning we will repair or replace any unit at no charge with no questions asked.
Free trial offer
Try our home and office refreshment services for free! Call us at (800) 499-9938 to learn how you can sign up for a free 30-day trial for a five-gallon water cooler. We also have a five-day trial period for businesses that are interested in our office coffee services.