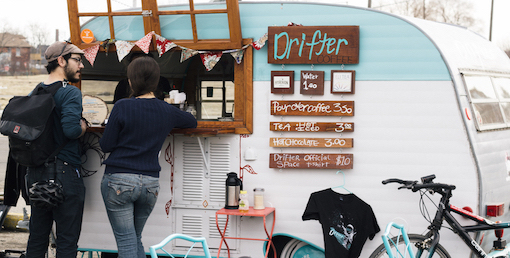 Refreshing Thoughts
February 16, 2017
Drifter Coffee: Better Coffee Starts with Better Water
A quality cup of coffee can arguably turn a good day into a great one. The rich, intoxicating aroma, coupled with a warm mug full of bold flavor, is the recipe for a happier, caffeinated day.
Did you know that a cup of coffee is 98.75% water? At Absopure, we believe a better cup of coffee starts with better water. Alleah Webb, head honcho at Drifter Coffee, agrees, which is why she exclusively uses Absopure water to brew her company's cups of joe.
Drifter Coffee, a metro Detroit-based mobile coffee shop, serves coffee out of a vintage teal and white 1967 Serro Scotty trailer.
"I decided to go mobile and get a coffee trailer because I wasn't sure where I wanted to start a brick-and-mortar shop," said Webb. "I wanted to travel with my business and reach a larger audience of coffee lovers."
Drifter Coffee chose to use Absopure water because of the refreshing, crisp taste. "A great cup of coffee is always going to start with quality water," said Webb.
The mobile coffee shop also chose Absopure for convenience and portability. After all, a coffee business on wheels needs a way to transport water! The Drifter Coffee trailer is fairly small and doesn't have a water line, so they needed a product that could be pumped out of large, portable containers.
"Sometimes we service small events and only need one or two 5-gallon jugs, but other times we'll go through 45 containers in a weekend at large festivals," said Webb. "Being able to transport the 5-gallon containers with us is easy and convenient. Plus, it's a great workout when I carry the containers into the trailer!"
In 2016, Drifter Coffee used 150 5-gallon containers of Absopure water. That's 750 gallons of water, and a lot of cups of coffee!
You can find Drifter Coffee pouring our favorite caffeinated beverage (coffee!) at events, festivals, farmers markets and more in metro Detroit.
Visit our website to sign up for a free trial of our office delivery services, or call (800)-499-9938 to schedule an appointment with us.