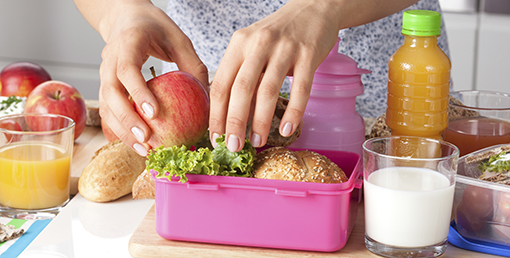 Healthy Living
September 9, 2015
Healthy Lunch Ideas for Kids and Parents Alike
For parents, the end of the summer means the beginning of the back-to-school routine. In addition to memorizing bus and carpool schedules, after-school practice times and dozens of other crucial details, the last thing you want to do is forget to pack a lunch.
According to the Centers for Disease Control and Prevention, almost one in five children in the United States are obese and almost 35% of adults are, too. The goal should be to provide the entire family with a healthy, nutritious and satisfying meal that they'll actually eat and enjoy.
As adults, we also have to be mindful of the dangers of poor nutritional choices as we head off to work. Burgers and burritos may sound good when you have a busy day at the office, but empty calories can add up to an unhealthy lifestyle.
As it turns out, there are lots of great tips for packing a healthy, balanced lunch that not only applies to your kids, but that you can use to make a positive change in your eating habits, to.
Just because foods are better for you, doesn't mean they don't taste as good. Small changes can add up to big effects in the long term. Try using whole wheat breads and pastas instead of bleached flour. Veggie crisps can also be a good, healthier alternative to corn or potato chips. Sometimes you can get yourself and your kids to eat healthy without even noticing. ChooseMyPlate.gov has some helpful tips for making fun meals that are nutritionally balanced. They're mostly for kids, but that doesn't mean a fun-loving parent can't enjoy them too!
Who doesn't love variety? If you're packing the same, tired ham and cheese every day, you'll lose your motivation to eat it and potentially give into temptation. Don't be afraid to mix in a few new offerings to spice up the lunchbox. Instead of bread, try a wrap. Salads and smoothies are also a great way to compliment and replace traditional meals you can grow tired of.
Balance is key. A well-balanced lunch means packing something that represents all of the major food groups. Fruits and vegetables should be a key component of every lunch. Pick fruits and vegetables that you like, and don't be shy about packing them. The more you have to choose from, the more likely you'll be to enjoy your lunch.
Explore and be curious! Lunch doesn't need to always be a sandwich and something salty. There are plenty of sites like Greatist, Eating Well and even BuzzFeed that are filled with great-tasting, imaginative and easy lunch options for you and your kids. All you have to do is look!
Don't forget the fluids. A healthy meal also means a healthy beverage. Skip the soda, sugary sports drinks and over-sweetened juices. An Absopure Packable, handy and convenient, provides 6.5 ounces of hydrating, all natural spring water.
Trying to keep your lunchbox healthy this school year? What are some of your favorite tips for providing you and your kids with great-tasting, healthy meals during the day?