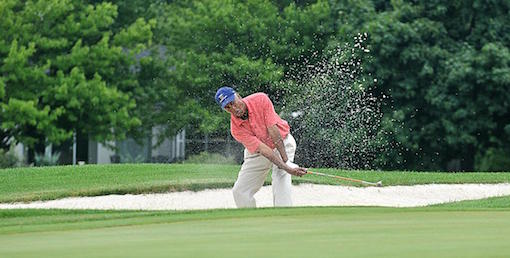 Healthy Living
July 13, 2015
Brain Health Basics: The Benefits of Hydration For a Brain Healthy Lifestyle
Today, golfers from around the state of Michigan will take a swing at eliminating Alzheimer's disease as part of the 2015 Alzheimer's Association Annual Golf Outing at Fox Hills Golf and Banquet Center.
Since the inaugural event was first hosted 19 years ago, the Alzheimer's Association has been able to raise $500,000 for research programs, education and outreach. As a long-standing sponsor of this event, we couldn't be more proud to support their goal of raising funds and awareness in hopes of providing valuable support to families and patients affected by this devastating disease.
"We are greatly appreciative of Absopure's generosity and support," said Jennifer Howard, executive director of the Alzheimer's Association, Michigan Great Lakes Chapter. "As a long-time sponsor of our foundation, they have gone above and beyond to donate water and contribute to the success of our event."
According to the Alzheimer's Association, the disease affects an estimated 5.3 million Americans of all ages, with the vast majority of cases occurring in adults over the age of 65. While doctors don't know the exact cause of the condition, it is usually caused by a combination of genetic, lifestyle and environmental factors. People with the condition exhibit signs of memory loss, eventually leading to cognitive impairment and confusion.
As part of their mission, the Alzheimer's Association provides free education programs to the public.
"One of the subjects we discuss in our education programs is how to live a brain healthy lifestyle," said Jennifer. "We have solid research that shows that diet, exercise and social engagement can help reduce the risk of developing Alzheimer's."
In addition to adopting a healthy diet and exercising regularly, hydration is also an important factor in maintaining a brain healthy lifestyle. Like the rest of the body's organs, the brain requires water in order to function properly. According to a University of East London study, even mild dehydration can have an adverse effect on short-term and long-term memory, along with cognitive function. In the study, people who drank a glass of water after waking up in the morning saw 14 percent faster reaction times compared to those who did not.
A hydrated brain is a healthy brain. Just a few glasses of water a day can mean improved memory function and concentration. While it's certainly not a cure, ensuring proper water intake can help give Alzheimer's patients another tool in the fight against the disease.
Do you know someone who could use support? Visit www.alz.org or call 1-(800)-272-3900 to learn more about the Alzheimer's Association of Greater Michigan and the various support programs they offer, including care consultations, support groups, education programs and more.