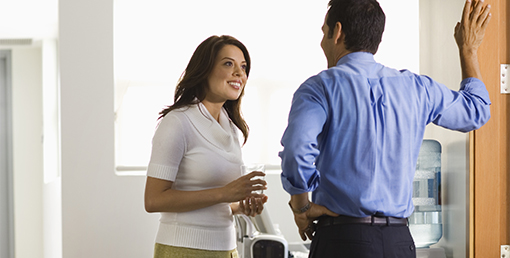 Absopure Delivered
December 10, 2015
Happy, Hydrated Employees Start with Absopure Water Delivery
The water cooler is an iconic part of the American workplace. But, in addition to being the centerpiece of office conversation, it provides another valuable service – hydration.
Health and wellness at work is critical, especially during the holiday season. But did you know that, in addition to a host of other positive health benefits, staying hydrated helps promote a healthy immune system during the cresting cold and flu season.
This holiday season, give your office the gift of fresh, pure natural spring water from Absopure. Water is an important part of any office, and after 106 years in the business, nobody does office water delivery like we do. Here are just a few reasons you might want to consider us for all your workplace hydration needs:
Absopure has a wide variety of products and a large selection of equipment for any office.
Our quality is second to none – we perform over 10,000+ quality control tests each year to make sure our products exceed all local, state and federal standards.
Thanks to our unparalleled quality, we service over 90% of the top retailers in the nation.
We have the largest fleet of trucks and can guarantee a 3-day turnaround time for all deliveries.
Our prices are competitive and upfront with no surprises and no charge for deliveries or cooler maintenance.
We pride ourselves on customer service and have a fully-staffed team of specialists to answer any questions or concerns you may have.
Maybe the ol' water cooler isn't your preference? No problem. We also deliver convenience size bottled water by the case, and specialize in filtration services, using the latest technology out there to provide your workplace with clean water however you need it. Our professional and knowledgeable staff can help you figure out a solution that's right for your office. With competitive rates and consistent costs each month, it could even help your budget.
High quality hydration is one of those perks that your employees are sure to love. So click here to get started with a free consultation. And if you're looking for a little extra "perk," learn more about our office coffee service, too!