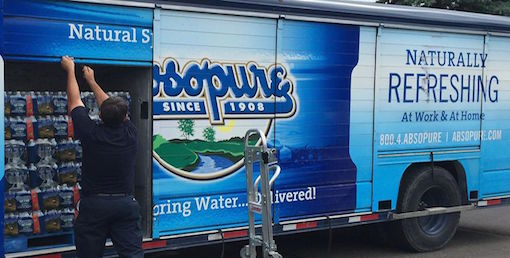 Absopure Delivered
May 25, 2017
5 Healthy Delivery Services
Julia is a mother of two who does her best to live an active, healthy lifestyle.
But between working full time, staying active, taking care of her kids and juggling the 700 other things going on in her life, Julia rarely has the time to shop for and prepare healthy meals. As a result her diet is out of balance, which affects her ability to maintain the "healthy" aspect of her lifestyle.
After telling friends about this conundrum, Julia learned about healthy delivery services that bring water, meals and snacks right to her front door – allowing her to more easily pursue an active, healthy lifestyle for herself and her family.
If you live a life similar to Julia, this list of four healthy food and water delivery services will help you maintain balance.
Absopure Home Water Delivery
You don't need to travel to the grocery store every time you need to restock on bottled water. With Absopure Home Water Delivery, you can set up a recurring order and have cases of pure, great-tasting Absopure water brought right to your doorstep.
This healthy delivery service is a convenient way to maintain an active lifestyle, and it can also save you money! Other Products offered for Absopure's Home Water Delivery include 5-gallon bottled water, water coolers and water filtration systems.
HelloFresh
Want to enjoy wholesome, healthy home-cooked meals without the planning, shopping and hassle? HelloFresh gives you the opportunity to do so with its healthy food delivery service! Operating on a subscription model, HelloFresh allows you to choose from a Classic Plan, Vegetarian Plan or Family Plan – all at a reasonable cost. Once you're signed up, they will deliver carefully planned, locally sourced, healthy and delicious meals when it's most convenient for you.
NatureBox
Looking for healthier snack options, but don't actually want to look for them at a grocery store? NatureBox is the perfect solution! All the snacks they make are created with tasty, high-quality ingredients – including several vegan, non-GMO and gluten-free options. With more than 100 snacks to choose from and dozens added each month, this healthy delivery service is sure to be a hit at your home. To make it even sweeter, NatureBox offers free snack delivery on all U.S. orders over $25!
Door to Door Organics
If you're searching for an organic produce option, Door to Door Organics is the company for you. Door to Door Organics delivers a box brimming with farm-fresh organic produce & curated natural, local groceries to your door every week. They offer direct delivery to areas in Michigan, Indiana, Illinois, Iowa, Wisconsin, Missouri, Kansas. If you sign up for a subscription, there's no commitment and you can cancel at any time.
Shipt + Meijer
When you need to go grocery shopping but don't have the time or desire to plan the trip, there's Shipt – a healthy food delivery service that has a partnership with Meijer, and does the shopping for you! Simply download the Shipt app and order from Meijer's store-wide grocery selection. Within the hour, a Shipt shopper will gather all the items on your list and deliver them to your door in a timely manner. If you place your Shipt order before you leave work, you could have all your Meijer groceries delivered to your door by the time you get home!
Have you used any of these healthy delivery services, or know of others? Let us know in the comments below!