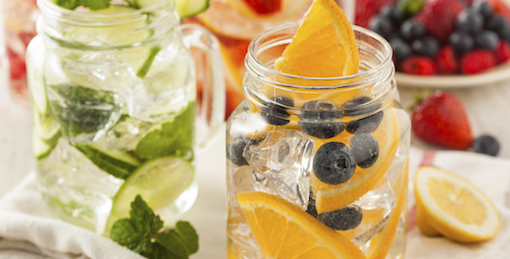 Healthy Living
May 8, 2015
Fruit Infused Water & Healthy Hydration
Time to trade in your warm thermos for a cool tumbler. Summer is just around the corner, and we're here to share some suggestions on how you can keep cool and stay hydrated with healthy and refreshing fruit infused water.
We all know how important it is to drink water, but when the heat is on, you might be looking for something with a little more flavor. Instead of reaching for sugar-laden sports drinks or soda, create your own fruit infused water instead.
The potential flavor combinations are limitless, and there are plenty of reasons to take the plunge:
Fruit infused water provides all of the health benefits of good old H2O, plus additional vitamins and nutrients found in the fruits and vegetables you add.
You can create custom flavor combinations that not only taste great, but also give your body a boost. For example, citrus infused water can help strengthen your immune system, while water steeped in berries is rich in antioxidants.
It's an all-natural way for kids to enjoy a sweet-tasting drink without all of the unnecessary sugar found in soda, sports drinks and even juice.
Getting started is as simple as breaking out a pitcher, filling it up with some cool Absopure water (or Cap10 All Natural Sparking Mineral Water for a fun, carbonated kick), cutting up some of your favorite fruits and letting the flavors sink in while the water chills in the refrigerator. The longer you leave the fruit in, the stronger the fruit flavor will be.
If you're looking to take your infusion skills to the next level, there are a few additional methods you can try:
Buy a special infused water pitcher for an easier way to mix your fruit and water.
Use a muddler to crush berries and soft fruits in order to provide maximum flavor prior to putting them in your water.
Give an added kick and extra dimension to the flavor of your fruit water by adding fresh herbs, such as mint.
Be sure to check out this handy ingredient guide that contains lots of information on the health benefits associated with all the fruits and vegetables you can infuse into your water. Buzzfeed also has some terrific and thirst-quenching recipes for just about every occasion.
What are some of your favorite fruit infused water recipes? Tell us in the comments below!