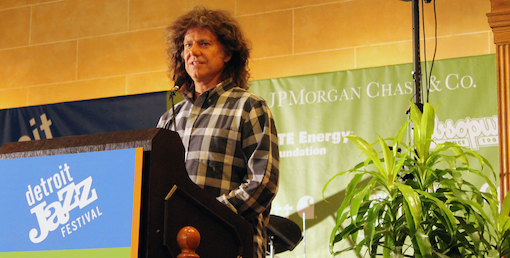 News
April 29, 2015
Absopure Sponsors Pat Metheny As Detroit Jazz Festival Artist-In-Residence
As a century-old company with deep roots in Detroit, we're proud to support some of the city's most beloved events, including the Detroit Jazz Festival. Since 1980, the Detroit Jazz Fest has been one of the city's signature cultural events, bringing metro Detroit together to celebrate the city's musical roots through world-class entertainment—a mission we're honored to support.
As a long-time supporter of the Detroit Jazz Festival, we're excited to announce that Absopure is sponsoring world renowned guitarist/composer Pat Metheny as this year's Artist-in-Residence.
With 20 Grammy Awards to his name and more than 20 million albums sold, including three RIAA-certified Gold records, Metheny's career is unique in that his distinctive sound has inspired several generations of jazz enthusiasts and aspiring artists.
Put simply, Metheny's body of work speaks for itself and it's an honor to help the Detroit Jazz Festival bring such an iconic musician to the city. With his universal acclaim and unwavering commitment to artistry, he'll make a great ambassador for the festival and mentor to young musicians in the city. To bring him to Detroit, a place very much engrained in the roots of jazz, is something special we're proud to support.
As the Detroit Jazz Festival's official ambassador, Metheny will participate in collaborative sets with special guests throughout the festival weekend—including homecoming jam sessions with native Detroiters—and support education initiatives leading up to Labor Day Weekend performances including:
The Pat Metheny Trio with Antonio Sanchez and Scott Colley and special guest Detroiter Kenny Garrett
An intimate acoustic duo with Detroiter Ron Carter
A much-anticipated reunion with Gary Burton in a special quartet put together just for this festival with Scott Colley and Antonio Sanchez
An ambitious large ensemble, consisting of the Detroit Jazz Festival Orchestra and the North American premiere of Metheny's latest 30 minute suite – a tribute to German bassist Eberhard Weber
We look forward to supporting Metheny's involvement in the Detroit Jazz Fest's Artist-in-Residence program. The more we can do to support individuals and organizations who are enriching the city, the more we can support the positive momentum behind Detroit and encourage the next generation of entrepreneurs and artists to expand their influential roots in the city.
Now in its 36th year, the Detroit Jazz Festival is the world's largest free jazz concert that's open to the public. Complete with a lineup of world-renowned performers, educational activities for kids and a firework display, it's an event the entire family can enjoy. We hope you'll come get down with us on the Absopure Pyramid Stage Labor Day Weekend for live performances from the world's greatest jazz musicians.