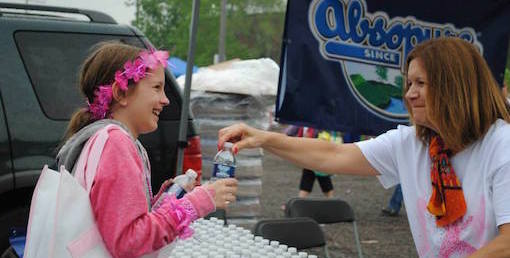 Community
May 19, 2015
Absopure Supports Komen Detroit Race for the Cure
Did you know that one in eight women and one in one thousand men will be diagnosed with breast cancer over their lifetime? In 2015 alone, an estimated 231,840 new cases of invasive breast cancer are expected to be diagnosed in women in the U.S.
We all know someone who has been affected by breast cancer, and it's up to us as a nation to come together and join the fight against this devastating disease. This past weekend, we teamed up with the Barbara Ann Karmanos Cancer Center in support of the Komen Detroit Race for the cure.
The Susan G. Komen Race for the Cure Series is the world's largest education and fundraising event for breast cancer. Not only does the organization coordinate 5K runs and walks to raise funds and awareness for breast cancer, the events are a great way to celebrate survivors, honor those who have lost their battle and empower those who are boldly facing their fight against breast cancer.
This is our eleventh consecutive year supporting the Komen Detroit Race for the Cure. Since we started sponsoring event, we have expanded our involvement to include two other Komen Michigan Race for the Cure events in Kalamazoo and Lansing. We're proud to say we've donated more than 400,000 bottles of water to the cause over the past 11 years.
"The Komen Mid-Michigan Race for the Cure is incredibly grateful for the generosity and partnership of Absopure," said Komen Mid-Michigan Events & Communications Manager Pamela Werling. "They have been a proud sponsor of our race for years, providing bottled water for our runners and walkers. Not only do they donate a great product, Absopure employees volunteer their time."
At Absopure, we take pride in supporting our local community, and so do our employees. Each year, our employees rally together and volunteer their time to pass out water at the Komen Detroit Race for the Cure. One of our employees, Mike Roch, has been an avid supporter of this event for the past several years and brings his entire family downtown to pass out water along the course.
"We couldn't be more proud to be part of this inspiring event and enjoy spreading hope to those who have been impacted by breast cancer," said Mike. "It is nice to get the whole family together to volunteer for a great cause."
We want to thank the Barbara Ann Karmanos Cancer Center and Komen Michigan for putting together a host of inspiring events throughout the state of Michigan each year. Head over to our Facebook page to check out more photos from this year's event.
If you haven't attended a Komen Race for the Cure, we challenge you to walk or volunteer. Visit the Komen Michigan website to learn how you can get involved and find an event in your area.