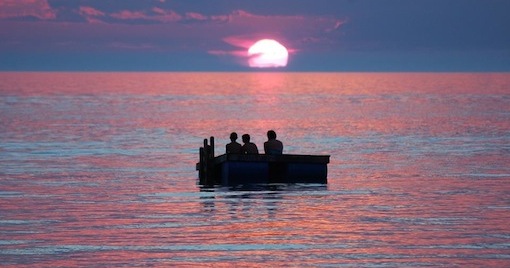 Refreshing Thoughts
July 2, 2014
6 Pure Michigan Summer Vacation Spots You Don't Want to Miss
After enduring perhaps the longest winter in recent memory, you owe it to yourself to take an extra vacation (or two) this summer!
When it comes to June, July and August, the State of Michigan has some of the nicest weather and best summer vacation spots throughout the United States. So, get your bags packed and hop in the car with a few friends or family to enjoy a slice of Pure Michigan.
But, where should you go? From Ann Arbor to Zilwaukee, there are a ton of great choices. Here are six Pure Michigan vacation destinations to choose from:
Pictured Rocks
Michigan's entire Upper Peninsula is gorgeous, and many consider the Pictured Rocks to be the crown jewel of it all. Located on the north end of the UP on the shoreline of Lake Superior, the Pictured Rocks feature "sandstone cliffs, beaches, sand dunes, waterfalls, lakes and forests" to offer the complete package for those who love spending the summer outdoors.
Torch Lake
Torch Lake might boast the clearest water in the entire state. It's massive! The 19-mile-long lake is Michigan's longest inland lake and has plenty of wide-open space to enjoy a quiet summer afternoon any way you'd like. But while the lake is usually quiet and tranquil, it is also famous for hosting a big party every Fourth of July at the sandbar on the lake's south end.
Detroit
Why not hit the big city for a gig or a game while the weather is nice? Detroit Rock City has several great concert venues that are regularly booked with local and national talent, and is home to Comerica Park and the Detroit Tigers, which is a great place to see a ballgame.
But, before the bands or baseball, take a visit to the Detroit Zoo! Just minutes outside of Detroit's city limits, the zoo is a non-profit organization that showcases more than 280 different species. Also, both the Detroit Zoo and Comerica Park allow visitors to bring sealed bottled water into their venues. So, grab a bottle of Absopure to bring with you and stay hydrated on sweltering summer days!
Grand Rapids
Grand Rapids is another growing city packed with things to do, and is perfect place to visit if you're a craft beer fan. The city was named "Beer City, USA" back-to-back in 2012 and 2013. Also, the beaches of Grand Haven and Holland are only a little over a half hour away, where sparkling Lake Michigan awaits! And, Muskegon is only a short drive away, where Michigan's Adventure amusement park features 18 holes of mini golf, roller coasters and water park rides.
Traverse City
As part of our partnership with Pure Michigan, we recently hosted a "Pure Michigan Moment" Facebook photo contest and gave one lucky winner a family fun weekend to the Grand Traverse Resort and Spa in Traverse City. There are plenty of things to enjoy in Traverse City, like self-guided winery tours and relaxing on the beaches along Lake Michigan. One of the best times to visit Traverse City is in early July during the National Cherry Festival, named USA Today's top ten festivals for several years running. Traverse City is also a short drive from the world-famous Sleeping Bear Dunes.
Mackinac Island
Don't plan on driving to this Pure Michigan summer vacation spot. Cars are not allowed on Mackinac Island; all transportation is walking, biking or by horse! Once you take the ferry to the 3.8-square-mile island, you can enjoy the state park that encompasses over 80 percent of the island and visit locations like the island's many fudge shops and its Grand Hotel while you're there.
Of course this list isn't complete. There are far too many Pure Michigan summer vacation spots to include in one blog post.
What is your favorite Pure Michigan vacation spot? Do you have a summer vacation tradition? Tell us about it in the comments!