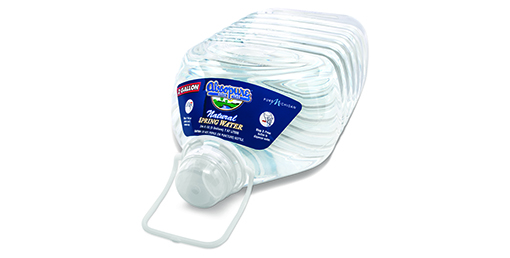 News
June 26, 2015
Absopure Introduces New 2-Gallon Water Bottle
As one of the top 10 bottled water companies in the country, we pride ourselves on listening to our customers and innovating to always be part of their evolving hydration and lifestyle needs.
That's why we're excited to announce that we've designed a new 2-gallon water bottle that fits perfectly in refrigerators and is an efficient use of space. We wanted to provide consumers with a better option for purchasing bulk water containers than what was previously available in the market.
Our new bottled water container is the only 2-gallon water bottle on the market and is unlike any other bulk water container you may have seen on store shelves.
Its long and rectangular design enables the bottle to lay flat on lower refrigerator shelves, whereas other containers can be cumbersome to fit in the refrigerator and take up unnecessary top shelf space.
No more fussing with knives and scissors to puncture a hole in order to dispense water. Our new 2-gallon has a self-venting valve, making it easy to dispense crisp, cool all natural spring water from the spout. We also took care to ensure our new 2-gallon water bottle was made from PET plastic, which is the most recyclable type of plastic and is also BPA free.
Our new 2-gallon water bottles are available at Kroger, Meijer, Schnucks, Woodman's Foods and Spartan Stores, as well as other local retailers soon.
Have you seen our new 2-gallon water bottle in stores? Tell us what you think in the comments below!