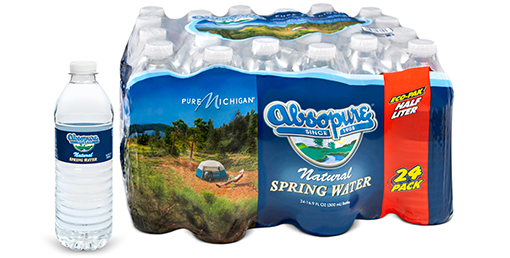 News
March 17, 2014
Absopure Announces Pure Michigan Partnership
As a family-owned company with deep Michigan roots tracing back to our humble beginnings in 1908, we are excited to announce that we have partnered with the Michigan Economic Development Corporation's (MEDC) award-winning Pure Michigan campaign.
Beginning this month, 24 and 35 packs of Absopure Natural Spring Water—available at retailers throughout the Midwest, including ACO, Gordon Food Service, Meijer, Spartan Stores and hundreds of others—will carry new packaging co-branded with Pure Michigan that will celebrate Michigan's natural beauty and recognize Absopure's century-old Michigan roots. In the coming months, additional Absopure products will adopt the Pure Michigan co-branded imagery.
As a Michigan-based company producing a Michigan product, Absopure embodies the entrepreneurial spirit of our great state's history, we see this as a perfect partnership 100 years in the making. We are excited to promote the unique and beautiful state of Michigan as a great place to live, work and play through this powerful, highly-visible collaboration with the MEDC and Pure Michigan.
As part of our partnership with Pure Michigan, we will also be releasing co-sponsored billboards, radio and TV advertisements, as well as a "Pure Michigan Moment" Facebook contest. The contest, launching today will run through April 7 and invites consumers to submit photos of what represents Michigan to them for a chance to win a weekend getaway to one of the state's greatest vacation destinations, Grand Traverse Resort and Spa in Traverse City. The winner will receive a family fun package that includes two nights of free accommodations, four complimentary breakfasts, sweet treats from Dylan's Candy Bar, 20 arcade tokens and an additional $100 gift card to spend at the resort.
"This partnership brings together two terrific Michigan brands—Absopure and Pure Michigan—and provides an opportunity to expose a new national audience to our state," said George Zimmermann, Vice President of Travel Michigan, part of the MEDC. "This co-branding reinforces the Pure Michigan messaging delivered by our regional and national advertising."
About Pure Michigan
Pure Michigan is a brand representing business, talent and tourism initiatives across Michigan. These efforts are driven by the Michigan Economic Development Corporation, which serves as the state's marketing arm and lead advocate for business growth, jobs and opportunity with a focus on helping grow Michigan's economy. For more on the MEDC and its initiatives, visit michiganbusiness.org. For Michigan travel news, updates and information, visit michigan.org.