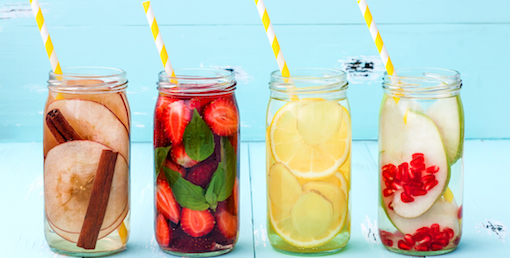 Refreshing Thoughts
August 31, 2017
4 Ways to Give Your Water a Flavor Boost
When the weather is warm, there's no beverage more refreshing than water! However, if you're looking for some flavor, H2O's pure taste alone might not be enough.
Since soda and other sugary drinks are not conducive to a healthy, active lifestyle, people are instead finding natural ways to enhance the taste of their drinking water.
If you're looking to give your water a flavor boost, here are a few ways to do it:
Fruit-Infused Water
One of the best ways of enhancing the flavor of your water is to infuse it with fresh, tasty fruit. In addition to receiving all its liquid benefits, fruit-infused water packs in all the vitamins and nutrients of the fruit you add!
Here are a few different tips for making fruit-infused water at home:
Fill a large pitcher with cold Absopure water, sliced fruit and ice.
Purchase a fruit infusion pitcher for a more convenient process.
Add fresh herbs, such as mint, to add an extra punch of flavor to your fruit-infused water.
Flavored Ice Cubes
Make your Absopure water colder and more flavorful with fruit-infused ice cubes! To make them, simply take some fruit – lemons are most popular – and blend it into a liquid juice. Then, pour the juice into an ice cube tray and freeze. Once frozen, you'll have several delicious fruit-infused ice cubes to add to your glass of water!
Integrate Cinnamon
If you really want to kick the flavor of your water up a notch, consider adding a cinnamon stick to your glass and letting it simmer. After a few minutes, you'll have a great tasting flavored water, with the added health benefits of cinnamon – including lower blood sugar and cholesterol.
Add Tea
Whether you like it hot or cold, add a bag of tea to your glass of Absopure water to create a delightfully relaxing herbal taste. With natural health benefits, including a boosted immune system and relaxed digestive system, adding tea to your water is a smart option for flavor seekers. Add mint to your tea for an even smoother taste!
What are some of your favorite ways to give your water a flavor boost? Tell us in the comments below! If you're interested in getting water delivered to your home or workplace, click here to start your free 30-day trial.