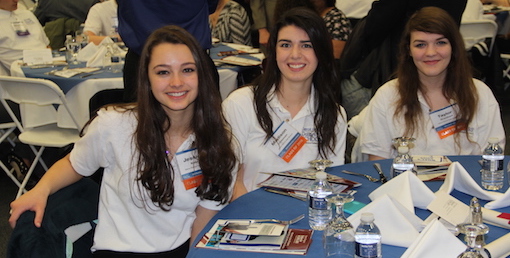 Community
April 23, 2015
Absopure Committed to Growth of Detroit Regional Dollars for Scholars Program
As a company that's committed to supporting charitable causes in our local community, we proudly support the Detroit Regional Dollars for Scholars® (DFS) program.
Founded in 1990, Detroit Regional Dollars for Scholars—part of the national Scholarship America network—provides both academic support and renewable scholarships with the goal of helping more students overcome the hurdles standing between them and higher education. The volunteer-driven organization's mission is to help local students prepare for life after high school through scholarships and academic support, to enable post-secondary success.
Like us, DFS is dedicated to investing in the future of Detroit and understands the importance of providing students with the tools, resources and experiences they need to fulfill their dream of higher education and reach their career goals.
The program provides high school students with a variety of extracurricular educational opportunities. Whether they're coordinating campus tours, taking students on a field trip to some of Detroit's most successful companies or participating in philanthropic initiatives, students in this program are exposed to a wealth of knowledge and valuable experiences.
DFS has significantly expanded its services over the past three years from supporting students at one high school to nine high schools in Wayne, Oakland, Macomb, Monroe and Washtenaw counties.
This year, DFS plans to award $104,000 in scholarships to 32 local students and hopes to extend the impact of their program to even more students. With plans to expand their program to 25 schools in the metro Detroit area, hundreds more students will have access to the scholarships and strong academic support DFS provides.
"Each day, we're reminded of the difference the efforts of Dollars for Scholars makes in the lives of local students," said Board President William Young. "We're grateful for the support of our sponsors and thrilled with our recent and ongoing expansion: The more students and schools we partner with, the stronger the results for our community."
Each year, DFS hosts a Celebration of Education luncheon to commemorate the growth of their program within the region and garner support from local corporations, foundations and individuals who share a commitment to this cause.
The luncheon also recognizes the patrons, volunteers and students who continue to add value to this great program within our local community. At the event, students who are currently involved in the program, as well as past scholarship recipients are provided with an opportunity to network with some of Detroit's most influential community members.
More than 375 local business and community leaders attended this year's Detroit Regional Dollars for Scholars Celebration of Education Luncheon, raising more than $378,000 toward scholarships and academic support programs for local students.
At the celebration luncheon, Michigan Supreme Court Justice Brian Zahra addressed attendees with a strong statement about the importance of increasing support for higher education for local students. Additional highlights included speeches from Dr. Antoine Garibaldi, University of Detroit Mercy President, as well as Detroit Regional Dollars for Scholars student, Miranda Ahearn. The event was emceed by Paul W. Smith, WJR AM 760 radio host, and featured a live performance from Detroit Voice.
We are honored to be one of the many great companies supporting the Detroit Regional Dollars for Scholars organization in its mission to raise awareness about the need for scholarships within our local community and help high school students overcome the hurdles standing between them and higher education.
To learn more about the Detroit Regional Dollars for Scholars program, visit http://detroitregional.dollarsforscholars.org.