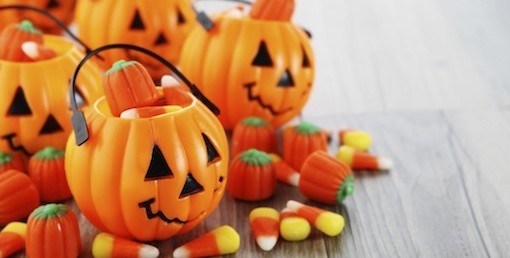 Healthy Living
October 30, 2013
Healthy Halloween Candy That Won't Scare Trick-or-Treaters Away
Halloween is almost here! Have you decided what kind of candy you'll be passing out this year? While Reese's Peanut Butter Cups and Skittles are enjoyed by trick-or-treaters everywhere, there are healthier options available, too. Here are five healthy alternatives to Halloween candy that won't scare trick-or-treaters away:
Chocolate covered raisins
Cater to chocolate lovers' taste buds this Halloween by passing out chocolate covered raisins. As a healthy alternative to candy bars, this sweet treat can satisfy any sweet tooth, and provides the nutritional benefit of raisins (and dark chocolate), too.
Granola bars
Granola bars can be a great alternative to traditional Halloween candy, but beware! Some granola bars contain as much calories, sugar and saturated fat as a candy bar. Before you buy a box of seemingly healthy granola bars, read the label. Choose granola bars that are high in fiber, low in fat and sugar and contain natural ingredients.
Trail mix
Filled with nuts, seeds, dried fruit and morsels of chocolate, trail mix is a tasty treat no kid can resist! Whether they scoop it by the handful or pick out their favorite ingredients individually, you can feel good knowing your child is eating a snack that's high in protein and healthy fats.
Sugar-free gum
Instead of handing out sticky, sugary candy, like Laffy Taffy, sour gummy worms or Blow Pops, hand out sugar-free gum that's approved by the American Dental Association (ADA). Studies show that chewing ADA-approved gum 20 minutes after snacking can help reduce the tooth decay that's caused by eating sugary Halloween candy.
Absopure Packables
While you've probably never heard of handing out water bottles for Halloween, our 6.5-ounce Packables are a great fun-sized addition to any candy bag. Whether kids use it to quench their thirst as they run from house to house, or drink it as they're sorting through their candy stash, it's a great way to make sure children are staying hydrated on Halloween.
Did we miss something? What healthy Halloween candy would you like to see added to our list?