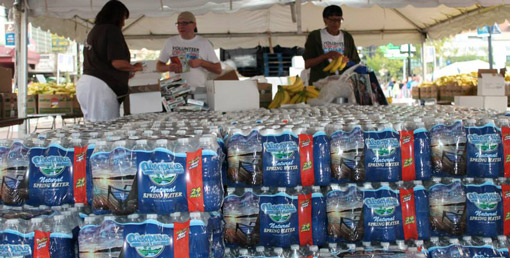 Community
August 24, 2016
Absopure Donates 8,500 Gallons of Water to Flint's Crim Festival of Races
At Absopure, healthy living and community involvement is important to us. We've proudly provided the HealthPlus Crim Festival of Races with bottled water at the start and finish lines, as well as the festival area, for many years. With ongoing water concerns in Flint, we decided it was time to support one of our favorite races to run in a bigger way. That's why we're continuing our water donation to the City of Flint by providing 8,500 gallons of free water to the HealthPlus Crim Festival of Races for the 40th anniversary race on August 27.
In previous years, race organizers were able to source water for hydration stations along the Crim's course from Flint's fire hydrants, which are connected to the city's water supply. Due to ongoing water quality concerns, a new water source was needed.
We'll be delivering two semi-trucks filled with one-gallon jugs of water before the race—an equivalent to 200,000 cups of water! The water will be transported to each aid station along the Crim's race course using 16 U-Haul trucks to ensure participants are staying healthy and hydrated for a stellar race-day performance.
If you're wondering what will happen to leftover water after the race, that's a great question! Any water not consumed during the Crim will be donated to the greater Flint community to further provide assistance to those in need.
"The health and safety of all Crim participants is our top priority, and we do not want to take any risks with the water we provide," said Crim Fitness Foundation Race Director Andrew Younger. "Thankfully, Absopure has once again generously stepped up to provide all the water needed, before, during and after the races. It's that kind of commitment to the community, when companies like Absopure volunteer to help create a great experience, that makes the Crim such a special event for the entire area."
Our Crim water donation is the latest in our ongoing support of the City of Flint and its residents. Since the water crisis began, we've partnered with a number of local organizations, including the Flint Food Bank, local grocery stores and the Jay Towers Water Drive, to donate more than 35,000 gallons of bottled water to residents in need throughout the city.
We're looking forward to supporting Crim participants on race day with the Flint community and beyond. We'll see you at water stations along the course and at the finish line to keep you healthy and hydrated!