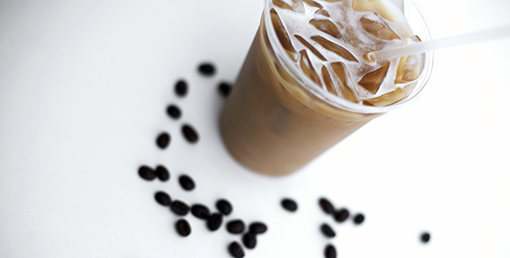 Refreshing Thoughts
July 11, 2013
4 Tips for Brewing the Perfect Cup of Iced Coffee This Summer
While there are many ways to beat the heat during summer, we like to cool down by putting a seasonal twist on one of our favorite beverages—coffee. While warm coffee drinks can still be enjoyable during the summer months, there's something about sipping on a cool and refreshing glass of iced coffee that gives the phrase "rise and shine" a whole new meaning. To help you satisfy your coffee cravings this summer, we're sharing the industry's best-kept secrets for brewing the perfect cup of iced coffee.
Double brew to maintain flavor
Making iced coffee may seem like a simple task, but people often miss the most important step in brewing the perfect cup—double brewing. Since ice can easily dilute the strength and flavor of coffee, double brewing ensures that your iced coffee will taste great and provide you the kick of caffeine you need to stay energized throughout the day.
There are two popular methods of double brewing coffee. The first method is to brew pre-made coffee over coffee grounds. The second method requires you to brew water over twice the amount of coffee grounds you would normally use. No matter what method you choose, the result will be a pot of coffee that is double the strength of normal coffee. After brewing, let the coffee cool, pour over ice and enjoy.
Use your Keurig to brew a cup of iced coffee
For a quick and convenient on-the-go option, you can now use your Keurig® to brew an ice cold and refreshing cup of coffee. Simply fill a tumbler or thermos with ice, choose your favorite Keurig Brew Over Ice K-Cup® flavor, press "brew" and stir in the perfect combination of sugar and cream.
Make a delicious Frappuccino
If you prefer the icy texture of a frothy Frappuccino over an iced coffee, you can easily make this fancy frozen beverage at home for much less than what it costs to buy at your local coffee shop. Simply blend crushed ice, half and half, sugar and espresso in your blender until you've achieved the consistency you desire. Next, pour it into your favorite glass and garnish it with whipped cream, caramel syrup or shaved chocolate, and—viola!—you're ready to enjoy your very own homemade Frappuccino!
Keep iced coffee cold with a double wall thermos
No matter how you like to enjoy your coffee, the best way to keep it ice-cold all day long is to keep it in a double wall thermos. Unlike regular thermoses, double wall, vacuum-sealed thermoses made of thick insulating material—such as stainless steel—better preserve flavor and keep beverages colder (or hotter) for longer periods of time. The reason why double wall thermoses are able to insulate beverages more efficiently is because they contain two chambers of insulation that prevent airflow and heat transfer.
When you're craving an intense iced coffee or a frothy Frappuccino, why make a drive to the nearest coffee shop when you can make them at home or office for a fraction of the price? No matter what your coffee cravings are, we carry a wide variety of national coffee brands and K-Cup flavors, as well as our own premium brand of Absopure coffee, all of which can be delivered straight to your door.
How do you like to drink your coffee during summertime? Tell us in the comments below. We're always looking for fresh new ways to enjoy a cup of coffee.