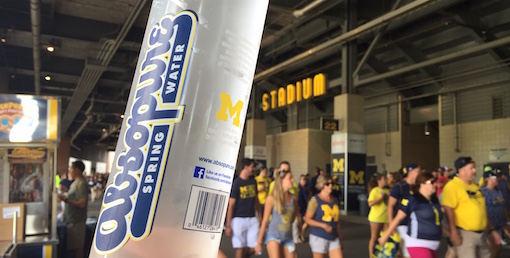 News
October 20, 2016
The Official Bottled Water of Michigan Athletics: Absopure Hydrates The Big House
As the Official Bottled Water of Michigan Athletics, we're proud to say we've been handing out free water to Michigan fans since 1988 at several Absopure Hydration Stations located inside The Big House. These unique, refreshing Hydration Stations are something you can't experience at any other stadium. Lucky for you, we recently renewed our partnership with Michigan Athletics so we can continue hydrating Wolverine fans for many years to come. 
We know Michigan Football fans can get a little thirsty on game day, which is why Absopure water is also readily available for purchase at all concession stands inside of Michigan Stadium. But did you know we also hydrate the players and coaches so they can maintain peak athletic performance?
Check out our infographic to find out how many liters, gallons and free servings of water are consumed, and how many tons of water bottles are recycled each season at The Big House.
Stop by one of our Hydration Stations to hydrate while you cheer on the mighty Wolverines. Go Blue!