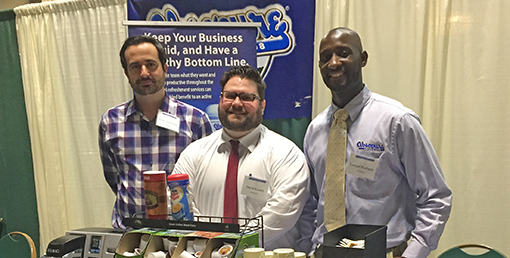 Absopure Delivered
November 14, 2013
Supplying St. Louis With the Best Office Refreshment Service in Town
Every year, we look forward to attending the St. Louis Small Business Monthly Business Expo. Twice a year, business professionals servicing the greater St. Louis community come together at this event to network and represent some of the city's best and brightest companies.
As an event exhibitor at this year's fall business expo, we had the pleasure of showcasing the many different office refreshment services Absopure has to offer, including coffee brewers, hot and cold water coolers, coffee, tea and bottled water delivery. This year, we gave out our 6.5-ounce All-Natural Spring Water Packables and sampled some of the many Keurig® K-Cup flavors we offer.
"If there's one thing we've learned over the years, it's that St. Louis consumers are very particular about their coffee," said Absopure Sales Manager Michael Kochenderfer. "With more than 70 varieties of Keurig® K-Cups, including Green Mountain Coffee, Café Escapes, Starbucks, Donut Shop, Caribou Coffee, Tully's and our own in-house blend of premium ground coffee, we're able to satisfy any coffee drinker's preferences."
In fact, amongst 9,000 ballots casted, we were voted Best in Reliability by St. Louis Small Business Monthly two years in a row.
We always enjoy participating in events like this because it allows us to build relationships with those who live and work in the St. Louis community. Other St. Louis events we're proud to support include GO! St. Louis and St. Louis Fashion Week.
If you're a business in the greater St. Louis area that is interested in supplying your office with the most reliable office refreshment service in town, give us a call at (800) 499-9938.