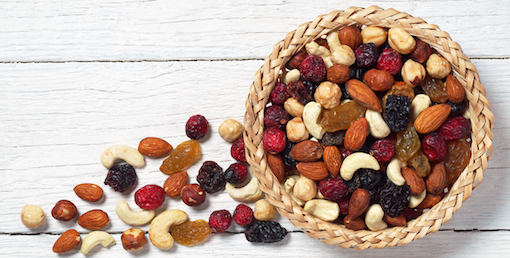 Healthy Living
January 20, 2017
5 Healthy Pure Michigan Snacks to Keep in Your Home
It's a great feeling when you eat a delicious snack and find out it's made with fresh, all-natural ingredients. Your snack tastes even better when you learn that it was made right here in Michigan. If you're looking to snack healthier and support local Pure Michigan products, here are four brands you might like trying in the New Year or all year long.
Kar's
Kar's is nuts about Michigan! The nut company was founded in 1933 across the street from Tiger Stadium in Detroit, and is now based in Madison Heights just a few miles away. This Michigan company is known for their healthy nuts and trail mixes – all roasted and packaged in the state, and sold across the country!
Pop Daddy Popcorn
If you're a popcorn fanatic, you'll love Pop Daddy Popcorn! This small, Michigan-based business specializes in flavored popcorns – including hot sauce, black pepper, white cheddar and kettle corn. All of Pop Daddy's popcorn is GMO-free and gluten-free, making it a preferred snack for health-conscious eaters.
Garden Fresh Salsa
What began inside a small restaurant in Ferndale, Michigan is now the #1 refrigerated salsa brand in the country! Garden Fresh uses only the finest, high-quality ingredients to make their iconic product. There are a variety of great recipes that use the salsa – for example, health-conscious Michiganders can utilize it as a vegetable dip, or as a tasty alternative to salad dressing!
McClure's Pickles
McClure's was only started in 2006, but it has since become a dominant force in the pickle industry. Each jar is hand-packed by a local Michigander in McClure's Mitten-based manufacturing facility. The Pure Michigan company's pickles are all-natural, gluten-free and kosher-certified, making it one of the healthiest snacks on this list.
Cherry Republic Dried Cherries and Fruit
Looking for a something sweet? Cherry Republic makes dried cherries and fruit that tastes great by themselves, mixed with nuts or can be substituted for raisins in any dessert or bread recipe! One of our favorite products is the Great North Dried Fruit Mix, which features both Montmorency and Balaton cherries, cranberries, apricots, and blueberries. From chocolate cherries to cherry salsa, Cherry Republic offers 175+ delicious products celebrating wonderful Northern Michigan cherries.
What's your favorite healthy Pure Michigan snack? Let us know in the comments below!