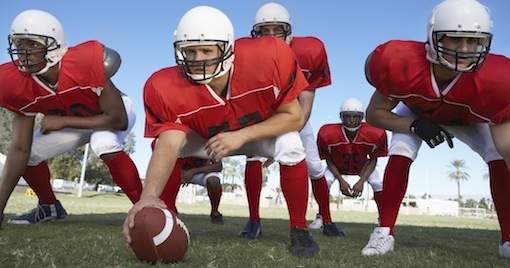 Healthy Living
September 17, 2014
Why Is Proper Hydration Important to Student Athletes?
Now that school is officially back in session, high school sports are well underway and student athletes are brining their game, both on and off the field. With the fall sports season upon us, let's talk about the importance of proper hydration.
Whether you're taking snaps on the football field, sprinting down the soccer field or running cross-country, proper hydration is a must for any athlete. Drinking the proper amount of water isn't just important to maintaining peak performance during exercise, it's also critical for preventing injury and potentially dangerous medical conditions.
On the performance side, proper hydration has a number of benefits that help athletes stay in the game longer. Water helps regulate body temperature, lubricates joints and greatly assists blood circulation. According to the American Heart Association, a well-hydrated athlete's heart doesn't need to work as hard during physical activity. The improved blood flow also helps muscles work more efficiently.
Drinking the right amount of water also helps prevent injuries. Just like proper hydration aids the muscles, not drinking enough water can actually harm them. No one wants to leave in the middle of the game because of a cramp that could have been easily prevented. More serious medical conditions such as severe headaches, fatigue and heatstroke can also be caused by a lack of hydration.
Although the dog days of summer are well behind us, and cooler temperatures have set in, staying hydrated is just as important. Athletes working hard at practice and training vigorously require more water than the standard 9-12 cups per day that most of us do. But, the actual required amount will vary drastically depending on the individual, level of exercise and the climate conditions.
Here are a few tips, courtesy of the American Heart Association, for monitoring and maintaining proper hydration during practices and games. You can find more hydration tips for athletes by clicking here!
Drinking before physical activity is crucial. It's easier to come prepared versus trying to play catch up when you're dehydrated.
For every pound of sweat you lose, you should replenish at least one pint of water. Weigh yourself before and after and make sure you replenish any water that you lost via perspiration.
Keep an eye on your urine color. The darker the urine color, the more water you need to drink.
Active people sweat more; not sweating during vigorous activity is a sign that you're dehydrated.
When it comes to maintaining proper hydration levels, experts agree—nothing beats good, old-fashioned water. So the next time you're about to hit the field, court or gym, grab an Absopure 25-ounce sports cap bottle. They're convenient, portable and will help you give your very best.
What tips and tricks do you have for staying hydrated during physical activity? Tell us all about them in the comments below!