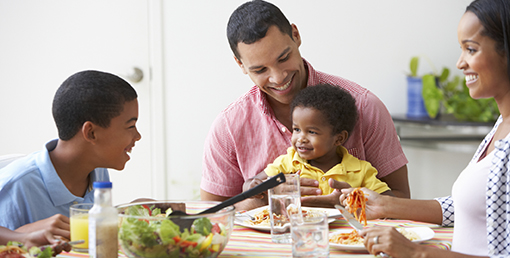 Healthy Living
October 1, 2015
Healthy Eating Habits for Kids: A How to Guide
Anyone raising a toddler knows that routines are important. From when to go to bed, or what clothes to wear, our young ones thrive on consistency and reliability. That's why, the key to helping children become healthy eaters is helping them develop good nutritional habits early on.
But, as anyone with a toddler at home knows, getting your child to eat and drink healthy and nutritious food is oftentimes easier said than done. Kids can be picky eaters, no question. But developing lifelong healthy eating habits are worth the time and patience required.
We're here to help you get started with some tips and tricks to get your toddler eating and drinking the right stuff.
Keep on schedule – As mentioned earlier, raising a toddler involves maintaining a routine. Mealtime should be no different. Want your kids to eat better and more predictably? Make sure you follow a meal and snack schedule. After a while, your kids will fall into a rhythm, and getting them to eat should be no trouble at all.
Healthy bodies equal healthy portions – Toddlers are notoriously finicky eaters. Some days, it seems like they barely eat. The next day, they could have eyes that are bigger than their tiny tummies. Portion control is critical if you want your kids to eat healthy. Always start with small portions. If your child is hungry after that, let them have more. Also, according to the U.S. Department of Agriculture, you should never force your children to finish what's on their plate. Let them be the judge of how much to eat. As long as the food in front of them is balanced with whole grains, lean protein and fruits and vegetables, let them be the boss.
Empower your kids to make good choices – Speaking of letting your kids be the boss, you'd be surprised how much easier it is to get kids to eat well if you give them a little control. Make a wide variety of nutritionally balanced food available, and let your children pick their favorites. After all, carrots that your kids got to choose usually end up tasting better than carrots that you chose for them. Here are some extra ways you can get your kids excited about making healthy choices.
Be fun, be creative and never stop trying – Routines are important, yes. But you should always be introducing your child to new foods to expand their healthy horizons. Even the most predictable schedules, perfect portions and choices in the world can result in your kid getting in a "food rut." Mix things up. Turn the ordinary into something different, but just as healthy. Get your kids excited to try new things. They won't know what they like until you give them their first taste! Need inspiration? Here are a few kid-friendly recipes that are both delicious and nutritious, courtesy of Weelicious!
And remember, hydration habits are just as important as eating habits. Kids may love the sweet taste of fruit juices, but all of that sugar can lead to problems down the road. Instead of a sippy cup of sweet stuff, let your kids reach their tiny little hands around Absopure Packables instead!
With 6.5 ounces of pure, natural spring water, it gives your kids a host of hydration benefits, without the artificial ingredients and unintended consequences of sugar. If your kids are craving something sweet to drink, try infusing the water with fruit for a special, great tasting and healthier treat!
Got any great tips of your own to help parents with picky toddlers eat healthier? Tell us all about them in the comments!